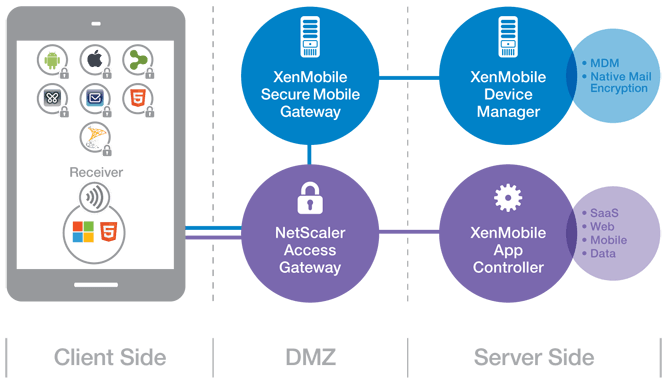 Citrix releases XenMobile 8.5, which now comes in 3 editions. Citrix XenMobile is an enterprise mobility management solution. XenMobile offers security and compliance for your organization while giving users mobile device, app, and data freedom. Users gain single-click access to all of their mobile, SaaS, and Windows apps from a unified corporate app store, including seamlessly integrated email, browser, data sharing, and support apps.
You can manage user devices with full configuration, security, provisioning, and support capabilities. In addition, XenMobile now supports the Worx mobile apps and contains the appropriate policy, behavior, and security controls.
XenMobile includes the following editions:
XenMobile MDM Edition

contains Device Manager, XenMobile Mail Manager (XMM), XenMobile NetScaler Connector (XNC), Secure Mobile Gateway, Multi-Tenant Console, and XenMobile Remote Support.

XenMobile App Edition

that includes App Controller that gives user access to all their mobile, web, SaaS, and Windows apps and data from a unified app store.

XenMobile Enterprise Edition

that comprises the entire XenMobile solution, including the MDX Toolkit and NetScaler Gateway.
This is what's new in XenMobile 8.5:
Configurable dashboard with device filtering and one-click bulk actions.
Multi-factor, secure individual or mass device enrollment using notifications for iOS and Android devices.
Policy creation and deployment for iOS, Android, Windows Mobile, and Symbian with management support for Windows 8 and Widows Phone 8, plus app deliver capabilities for Windows Phone 8.
Ability to distribute in-house and externally available apps to iOS, Android, Samsung, Samsung Knox, HTC, Windows Phone 8 Devices.
Browser policies to manage Citrix WorxWeb Lite browser app, such as URL filtering (and blocking), security settings, and bookmarking.
Support for Samsung Safe and Knox policies on Android.
Compliance and security enforcement with automated actions based on customizable compliance criteria.
Secure document and file sharing with SharePoint resource configurations and secure, on-device document container.
Encrypted email attachments to ensure only users on managed devices can safely read corporate documents.
Direct integration with LDAP and Microsoft Active Directory.
Extensive role-based access controls spanning the entire product feature set that you can apply to users and groups.
Geo-fencing and geo-tracking for advanced perimeter-based device security and compliance and asset tracking.
Event-based and ad-hoc notifications and automated actions.
Remote wipe (full and selective) of device assets.
App Lock to prevent non-compliant or malicious apps from launching on the device
App removal policies for remotely removing unwanted apps.
Learn more about XenMobile and download here (requires a valid mycitrix.com account )