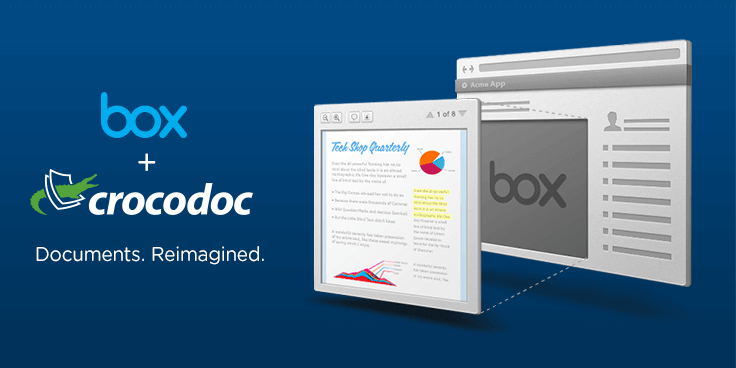 Box today announced the acquisition of Crocodoc, the web's leading HTML5 document rendering and viewing solution. Crocodoc's technology will be deeply integrated into the Box experience, and also become a core standalone platform offering, bringing HTML5 document viewing to third party applications across the web and mobile devices. The full Crocodoc team will join Box, with Crocodoc co-founder and CEO Ryan Damico serving as Box's Director of Platform.
"Content sits at the center of every business, and nearly every business application," said Aaron Levie, co-founder and CEO of Box. "Together with Crocodoc, we're going to transform collaboration on Box and beyond, creating a seamless, beautiful experience for our customers and helping to reimagine the future of documents. We're going even deeper in the content space, extending Crocodoc's HTML5 technology to every developer in the world who's building an application that touches content."
Founded in 2007, Crocodoc has served hundreds of millions of document previews in the last two years alone. The service powers HTML5 document conversion and viewing for top-tier applications across industries, including Yammer, Facebook, LinkedIn, Edmodo and Blackboard, all of which will continue to be supported. Built on open standards, Crocodoc's technology for extracting and rendering documents will provide new, sophisticated experiences for Box customers, which include more than 15 million individuals, 150,000 businesses, and major brands such as Gap, McAfee, Schneider Electric and P&G.
"We're excited to join an amazing team at Box in building the next great enterprise collaboration platform," said Ryan Damico, co-founder and CEO of Crocodoc. "We want to bring Crocodoc's technology to as many services and as many people as possible, and joining Box gives us unparalleled reach to accomplish our vision. We're going to change the way people share and collaborate at work, while continuing to redefine the future of documents on the web and mobile."
Customers of Box and Crocodoc can expect that:
Crocodoc's technology will be deeply integrated into Box's cloud content collaboration service, replacing the existing document previewing experience for all users.
The Crocodoc API will become a core Box platform offering, powering HTML5 document viewing for third party applications across the web and mobile.
Box will invest significantly in building out Crocodoc's technology and ecosystem.
Box will continue to support all of Crocodoc's customers.
To experience Crocodoc's latest technology, visit preview.crocodoc.com.
For more details about the acquisition, visit the Box blog.