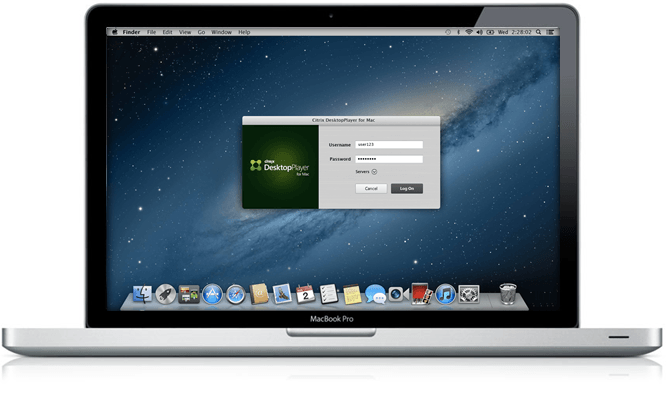 Citrix DesktopPlayer for Mac Tech Preview now available for XenDesktop and XenClient customers with valid subscription. DesktopPlayer extends the benefits of XenDesktop to MacBook users, enabling them to run Windows desktops on a Mac whether they are online, offline, or even experiencing a slow or intermittent network connection. End users gain freedom while IT gains control by centrally managing Windows virtual desktops deployed to corporate and BYO MacBooks.
Empower MacBook users to work on a local Windows virtual desktop regardless of the quality of the network connection
Centrally manage local Windows desktops on Macs through an intuitive IT console for deploying, updating, managing and securing virtual desktops
Protect corporate data on MacBooks with encryption, lockout and remote kill features in the event of device loss
Eliminate the need to keep rebooting for Bootcamp users who frequently switch between their Windows and Mac OS
Synchronize data and profiles across users' MacBooks and hosted desktops with UPM and ShareFile to give users local access to their Windows virtual desktops on their Mac
Seamless virtual desktops for Macs
Using DesktopPlayer with XenDesktop and ShareFile enables users to switch between local and hosted VMs with ongoing synchronization of profiles and data. This allows users to work on their laptop and then seamlessly switch to any device to access their hosted virtual desktop.
DesktopPlayer is the only virtual desktop solution for MacBooks that provides:
Local virtual desktop capability with no network dependency
Full centralized management and control for IT
Security for both data and virtual desktops
Integration as an add-on to XenDesktop
DesktopPlayer for Mac leverages the Synchronizer management server backend in the datacenter to provision and control Windows virtual desktops that run on top of the client hypervisor platform on Mac endpoints.
DesktopPlayer for Mac is a client virtualization solution for the Mac platform to allow users to run Windows virtual desktops on Macs. It uses a Type-2 hypervisor that installs on top of the Mac OS. Because DesktopPlayer installs on top of the existing Mac OS, it's ideal for BYO. XenClient Enterprise offers similar client virtualization capabilities for the PC platform, but it uses a Type-1 hypervisor that installs under the Windows OS (on the bare metal). XenClient Enterprise is ideal for corporate-issued Windows laptops and PCs. Both DesktopPlayer and XenClient share the same management server called the Synchronizer that is used to centrally control and provision Windows virtual desktops to the local Mac and PC endpoints.
Click here to download Citrix DesktopPlayer for Mac Tech Preview (requires a valid mycitrix.com account, and is only in the first phase available for some selected customers) Tech Preview will be available in August 2013.
{loadposition content_starwind600}