Today, at Summit Barcelona, Citrix launched Citrix VDI-in-a-Box 5 – the easy all-in-one VDI solution for Small and Medium Businesses.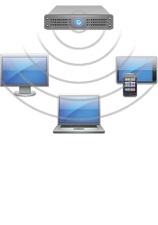 VDI-in-a-Box 5 has many exciting new features that make it a simple yet complete VDI solution for SMBs:
Even simpler, more intuitive – we have completely revised and revamped the VDI-in-a-Box management console to make it even simpler, even more intuitive, with an expanded set of wizards and policy-based automation for all the key aspects of setting up and managing virtual desktops.
Microsoft Hyper-V support – VDI-in-a-Box is an open architecture that supports multiple hypervisor platforms. With VDI-in-a-Box 5, you can deploy virtual desktops on Microsoft Hyper-V, Citrix XenServer or VMware vSphere ESX/ESXi.  Hyper-V support was requested by many prospects, so we are looking forward to the uptake with this feature.  This release also adds support for the latest XenServer 6 and vSphere 5.
Citrix licensing, order management integration – VDi-in-a-Box is fully integrated into the Citrix back-office systems so the order management and license delivery is consistent with other Citrix products. In addition, with VDI-in-a-Box, your license fulfillment is email based for simple quick license delivery.
Citrix support, simplified all-you-can-eat pricing – Similarly, support is integrated for VDI-in-a-Box so customers can leverage Citrix support worldwide.  In keeping with the simplicity theme, consuming support is simple with a single Maintenance SKU that includes all-you-can-eat support and product updates, upgrades and maintenance.  We have also built a one-stop support portal with how-to videos on nearly every key aspect of the product, how-to guides, product documentation, support forums, and an online knowledge base.  Access the support portal at  https://support.citrix.com/vdi-in-a-box
Faster multimedia performance with HDX 5.5 – This release incorporates the latest Citrix HDX 5.5 stack that further optimizes the performance of multimedia applications including real-time audio, improved webcam compression, and intelligent graphics rendering for fast, bandwidth-efficient multimedia.
Support for over 1 billion devices with Citrix Receivers – Citrix Receiver is now tested and available on over  1 billion devices, ensuring that your VDI-in-a-Box virtual desktop can be accessed by users from literally any device.
Access the technology preview version at: https://www.citrix.com/vdi-in-a-box/try-it