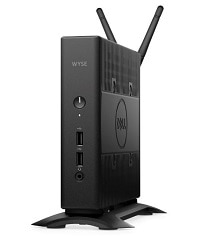 Dell announced a new high-performance, highly-efficient thin client, the Wyse 5060, that is easy to deploy and manage, provides greater security options and complete virtual workspace compatibility with Citrix, Microsoft and VMware. Designed for knowledge workers demanding powerful virtual desktop performance, and support for unified communications solutions like Skype for Business, the Wyse 5060 thin client delivers the flexibility, efficiency and security organizations require for their cloud environments with the superb user experience that employees need.
With over 430 patents granted for innovation in cloud client-computing, thin client design, management and security, Dell is the expert in client virtualization and at the forefront of enabling customers on their journey to digital transformation with virtualized environments, whether from a private, public or hybrid cloud. Dell is a leader in driving down the cost and complexity of desktop virtualization, while providing better performance and making it easier than ever to plan, deploy and run VDI. The enterprise-class thin client can be easily scaled for deployments to tens of thousands of devices, and offers a low total cost of ownership by reducing IT's time on ongoing management and maintenance.
"Today's knowledge worker requires access to highly efficient, powerful systems and tools that will enable them to innovate, collaborate and share information in a secure environment," said Steve Lalla, SVP, Commercial Client Software & Solutions, Dell. "Our new Wyse 5060 quad core thin client provides the performance and capabilities that knowledge workers in virtualized desktop environments demand with the low acquisition cost and ease of management that IT requires."
The Wyse 5060 thin client features an AMD 2.4GHz quad core processor that supports up to 8GB RAM and 64GB flash, offering up to 30 percent greater performance over the previous generation. Additional features include:
Broad Operating System Support: The Wyse 5060 is available with a choice in OS, giving customers the ability to configure the thin client based on their specific requirements. At launch, the 5060 can be purchased with Dell's own Wyse ThinOS software or with Windows Embedded Standard (WES) 7p. In early 2017, an upgrade to Windows 10 IoT will be available for WES customers, and the 5060 will also then be available with Wyse ThinLinux.
Innovative Security: Dell provides more than one security layer with the Wyse 5060 thin client. The device itself includes an embedded Trusted Platform Module (TPM) chipset with the ability to recognize if a system's integrity has been compromised while safely storing encryption keys, certificates and passwords. At the software level, Wyse ThinOS software is an ultra-secure, virus-mitigated operating system with unpublished APIs. For those opting for a Windows-based thin client, organizations can benefit from an additional layer of security with Dell Data Protection | Threat Defense, delivering advanced threat protection against 99 percent of executable malware. [I]
Robust Connectivity: To provide the seamless user experience and productivity demands of today's knowledge worker, the thin client supports dual 4K (3840×2160) monitors and provides multiple connectivity options with six USB ports, two of which are USB 3.0 for high-speed peripherals, as well as two DisplayPort connectors, wired networking or wireless 802.11 a/b/g/n/ac.
Easy Manageability: Dell offers a full suite of on-premise, off-premise, and auto management software options to deliver robust, enterprise-level manageability that can scale to tens of thousands of devices. Through the Wyse Device Manager, IT teams can streamline remote configuration and policy management of corporate and user-owned client devices – including thin and zero clients, iOS and Android devices – through a single, intuitive console.
The Wyse 5060 thin client is compatible with all of the major virtualization software brokers including Citrix XenDesktop, Microsoft RDS and VMware Horizon. VMware Blast Extreme remote protocol is also supported on the WES and ThinLinux-based versions.

ThinOS 8.3.1 provides customers with greater choice in Citrix zero clients

Dell cloud client-computing customers now have more flexibility in how and where they deploy thin client solutions within their Citrix environments. ThinOS 8.3.1 Wyse thin clients can be deployed as zero clients within a Citrix installation. Many Dell customers use Wyse Xenith clients in their Citrix environments today, and this gives them the ability to seamlessly deploy next-generation ThinOS-based thin clients into their existing Xenith infrastructures without losing any of the features or capabilities that define the Citrix zero client experience.
Supporting Quotes:
Scott DeTota, Vice President, Product and Partner Management, CDW
"As a leading solutions provider for growing businesses, leading schools and universities, healthcare providers and government for more than 30 years, we know what knowledge workers need to accelerate and continue to fuel new ideas for the next generation. We're delighted to be able to partner with Dell to offer our clients solutions that are not only configured for their needs, but offer best-in-class performance, efficiency and security at a reasonable price point."
Scott Aylor, Corporate Vice President and General Manager, AMD Enterprise Solutions
"By integrating the speed, efficiency and sheer power of our high-performance 2.4GHZ quad-core Embedded G-Series processor into the new Wyse 5060 thin clients, we are helping Dell to provide flexible, easy-to-manage and secure client virtualization solutions to a broad range of organizations. As expectations for HD video, high-end graphics and unified communications evolve, we will continue our collaboration with Dell to deliver an unparalleled experience for rich content creation and consumption on the virtual desktop."
Calvin Hsu, Vice President, Product Marketing, Windows App Delivery, Citrix
"Citrix and Dell continue our collaboration, making it easier for Citrix customers to deploy and run XenApp and XenDesktop VDI and secure app delivery while delivering a great user experience. Wyse ThinOS thin clients behave like a zero client within Citrix environments, helping joint customers get the most out of their IT, while enhancing security and making it easier for people to get their work done."