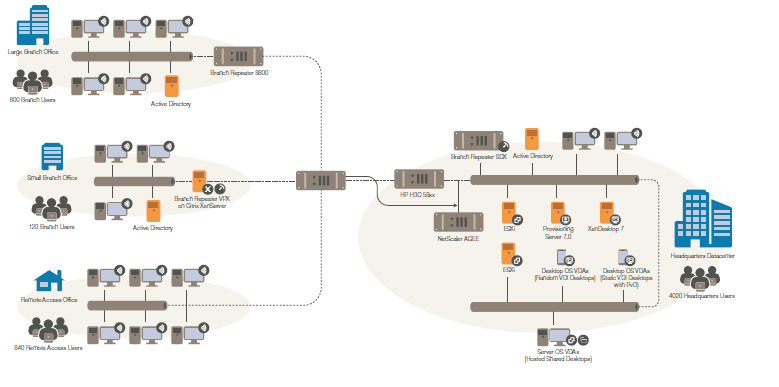 More and more enterprises are turning to desktop virtualization as a solution to rising IT costs, security concerns, and the user demands of BYOD and work from anywhere, at any time, from any device. But can a desktop virtualization solution support thousands 
of users, both local and remote? How well does a virtual desktop solution scale? This document discusses the environment created in the Citrix Solutions Lab to successfully deploy and support 5000 virtual desktop users in a multibranch environment. The Solutions Lab was formed to design, architect, and test deployments of large scale Citrix virtualization solutions from end-point device to the datacenter, including multi-branch remote locations.
This document provides information about:
The Design – How Citrix products and valued Citrix partner hardware were 

architected and configured to build a 5000 user, multi-branch solution

The Conclusions – Based on test results, the conclusions the Solutions Lab 

team were able to draw and the lessons they learned 
This document describes virtualization technology design and concepts. It covers the overall methodology for configuring and testing a real-world desktop virtualization environment to support a large number of users. This document does not provide step by step or detailed configuration instructions, but will define the architecture used in testing. This document is intended for the IT professional with relevant experience in virtualization technologies, and provides guidance when designing large scale virtual desktop environments. In addition, IT and other business executives will gain a better understanding of what's needed to deliver virtual desktops and applications to their users.
This document details the design, deployment, and validation of the new Citrix Desktop Virtualization architecture available in XenDesktop 7.
Project overview
XenDesktop 7 integrates Citrix XenApp and VDI technologies into a unified architecture, providing operational and management efficiencies in regards to the design and deployment of desktop virtualization. This project consisted of designing, building, and testing a XenDesktop environment to show how 5000 users can access services across multiple geographic locations, utilizing HP BL460c Gen8 blade servers, an EMC VNX7500 storage array, and VMware vSphere 5.1 with Citrix XenDesktop 7, NetScaler, and Branch Repeater technologies.
Click here to download the Scaling XenDesktop 7 to 5,000 users with VMware vSphere 5.1 (ESXi) Citrix Solutions Lab Validated Solutions Design Guide