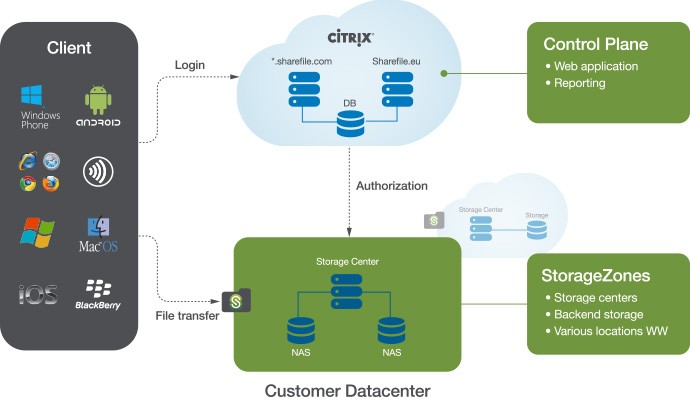 StorageZones Controller 2.1 combines the functionality of ShareFile Storage Center ("StorageZones for ShareFile Data") and ShareFile StorageZones Connectors into a unified package which can be run on a single server. 
StorageZones Controller 2.1 provides the following enhancements:
The StorageZones Controller installer now includes a PowerShell module that provides commands for backing up and restoring your primary StorageZones Controller configuration. A StorageZones Controller is installed on your local site, so backing it up is an essential step in protecting your configuration.

The installer also includes a PowerShell script that enables you to recover if the shared secret that protects the connection between StorageZones Controller and the ShareFile subsystem becomes corrupted. The script resets the shared secret by obtaining a new one from the ShareFile subsystem and writing it to the primary StorageZones Controller.

Support for SharePoint Server 2013 – StorageZones Connector for SharePoint now supports SharePoint Server 2013. The default maximum upload file size for a Web application increased to 250 MB in SharePoint Server 2013.

StorageZones for ShareFile Data allows IT departments the flexibility to choose the location of ShareFile content – using either Citrix-managed secure cloud storage, or IT-managed (on-premises) storage within your own datacenter. 

StorageZone Connectors gives users get instant mobile access to data on existing network file shares and Microsoft SharePoint® document libraries via the ShareFile for iPad and ShareFile for iPhone apps, side-by-side with their existing ShareFile content.
StorageZones Controller 2.1 is a downloadable component which resides on the internal network, allowing administrators to create and manage on-premises ShareFile Data, and/or define and publish StorageZone Connectors to internal data sources.
Click here to download and learn more (may require a valid mycitrix.com account)