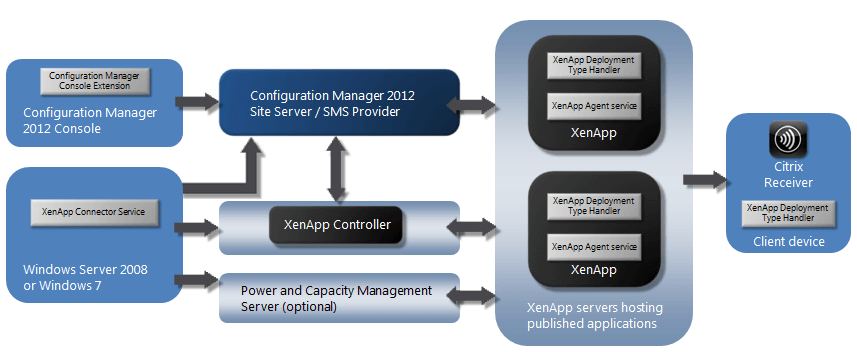 The XenApp 6.5 Connector SP1 for System Center 2012 Configuration Manager enables administrators to orchestrate the tasks required to deliver applications both to end-users and XenApp Servers seamlessly with Microsoft System Center 2012 (and SP1).
The benefits of XenApp Connector is:
Orchestrate the process of deploying applications to XenApp servers, farms, and worker groups from within the Configuration Manager console, both directly, for traditionally managed farms, as well as for streamed farms when used in conjunction with Provisioning Services

Extend the Configuration Manager 2012 user-centric and rules-based application delivery capabilities to deliver applications to users in the most appropriate manner for the device they are using: MSI, App-V, CAB, or XenApp

Enable user self-service of XenApp hosted applications from both Receiver and the System Center Application Catalog

Ensure high availability by optionally leveraging the Power and Capacity Management Concentrator to gracefully orchestrate the deployment of applications and software updates without any downtime for users
This Service Pack replaces the previous download which is no longer available.  Customers evaluating the 6.5 connector should upgrade to this 6.5 SP1 version as soon as possible.  Customers who already have the 6.5 connector in production are strongly encouraged to test and evaluate this service pack.
The XenApp 6.5 Connector SP1 for System Center 2012 Configuration Manager is compatible with XenApp 6.5, 6.5 FP1 and 6.5 FP2 only. In addition, if you wish to use the XenApp Connector for XenApp farms that are streamed by Provisioning Services you will need to download and apply the hotfix listed below