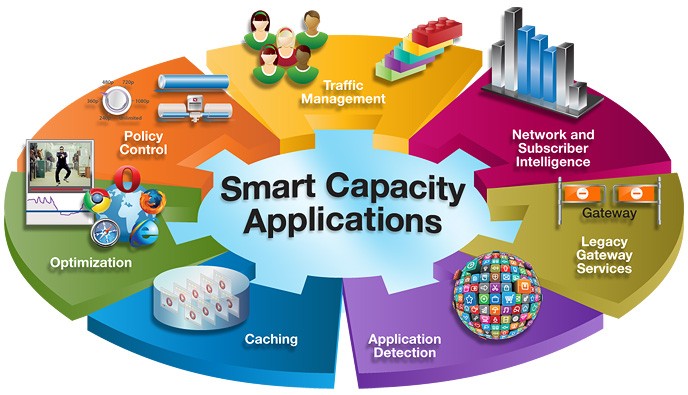 Citrix has announced the release of ByteMobile 7, the software that powers the company new features and dozens of feature enhancements, ByteMobile 7 builds on ground-breaking advances such as User Experience Indexing (UXI) to provide operators with unprecedented ability to use subscriber Quality of Experience (QoE) as a service differentiator. The software also provides new and enhanced tools to manage the unrelenting growth of mobile video and data, including the industry
The T-Series Adaptive Traffic Management System, first deployed in 2012, combines functions such as caching, application delivery, deep packet inspection (DPI), video and web optimization, policy control and reporting and analytics into a single centrally managed element. This enables mobile operators to manage data traffic on a massive scale and to consolidate multiple network elements into one. Since its initial rollout, the T-Series has been deployed in mobile networks on four continents, including several Tier 1 networks. These networks collectively serve nearly 130 million subscribers and process more than a petabyte of subscriber data traffic daily. By providing the tools needed to meet subscribers' rising expectations, ByteMobile 7 allows these and other operators to better ensure a great subscriber experience.
Internet Radio Optimization: Managing the Mobile Music Boom
As Citrix reported in the most recent ByteMobile Mobile Analytics Report andinfographic, mobile music is booming. According to the report, services like Pandora are generating nearly 12 percent of network data traffic in North America and 4 percent elsewhere, with 38 percent of U.S. smartphone users streaming music. The rollout of Applereduce Internet radio traffic volume by up to 30 percent with no perceptible effect on the subscriber listening experience.
User Experience Indexing: Measuring What Subscribers Actually See
ByteMobile 7 builds on patent-pending User Experience Indexing (UXI) technology that allows operators to monitor, measure and score an individual subscribers experience based on factors that actually affect that experience. Typical network metrics offer little insight into a subscribers level of satisfaction with the service theyre receiving, especially when it comes to video. The new enhancements in ByteMobile 7 include:
Separate scores for web and video experience, each based on a greater number of factors encompassing both content delivery and visual quality;
The ability to establish any given subscribers absolute UXI score and a relative UXI score, which assesses that users experience relative to other users;
The ability for operators to ingest, in real-time, per-subscriber UXI scores for use in analyzingand responding totrends in the individual and collective subscriber experience.
Adaptive Optimization: Apply When Needed
First introduced in 2012, adaptive optimization is a method of applyingany of dozens of techniques used to enhance subscriber QoE. ByteMobile 7 introduces a second generation of adaptive optimization and related capabilities, which include the following benefits and enhancements:
Video stalling, the greatest cause of subscriber dissatisfaction with video services, is reduced by up to 30 percent, with stalling associated with HD video content seeing the greatest improvement;
The required degree of optimization, if any, for a specific user is predicted based on a running history of factors such as UXI score and available network bandwidth;
File downloads are up to 30 percent faster, with the greatest benefits seen on LTE networks.
IP Traffic Classification: A Key Enabler for Consolidation
The ability to identify and subsequently classify data traffic is fundamental to a variety of mobile network functions, including user experience measurement, security, policy enforcement and business intelligence. To date, the T-Series Adaptive Traffic Management System has detected and classified the full range of smartphone-centric traffic that has driven the mobile data revolution. With the introduction of ByteMobile 7, the T-Series is now able to classify more than 800 different IP applications and protocols representing the full scope of data traffic across the network. These classification abilities give mobile operators all the tools necessary to collapse separate DPI elements into a single adaptive traffic management element.
{loadposition content_starwind600}