StarWind V2V Converter converts virtual machines freely from one format to another.
It works with major VM formats, namely VHD/VHDX, VMDK and StarWind native IMG. Both the source and the destination VM copies exist at the same time because the conversion procedure resembles cloning rather than replacement. This way the chance of data corruption and loss during conversion is completely eliminated. As a convenient side effect, StarWind V2V Converter basically creates a backup copy of the VMs, making the process even safer.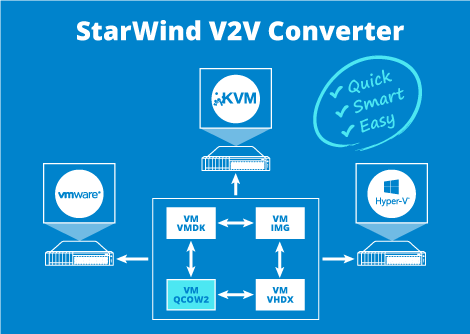 When converting the VM to VHDX format, StarWind V2V Converter enables the activation of Windows Repair Mode. This way the virtual machine will automatically adapt to the given hardware environment and negate any compatibility problems.
In comparison to hypervisors' built-in converters that only work one way (converting to their original VM format), StarWind V2V Converter is much more efficient, because it works both ways, converting any format into another one and back.
On top of the existing V2V features the newly released StarWind V2V Converter V8 Build 162 supports:
Red Hat KVM hypervisor and QCOW2 virtual machine images

"Stream-optimized" compressed VMDK format widely used with VMware OVF virtual appliance

Virtual emulated hardware update together with VM format charge
Enjoy the benefits of this free tool.