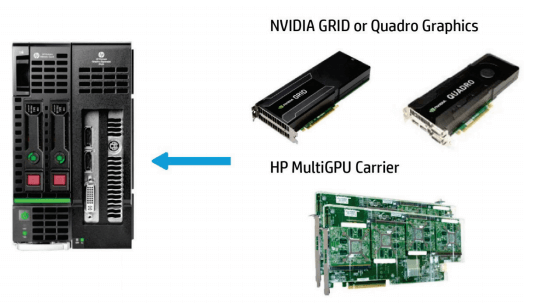 HP has released a whitepaper about Hardware accelerated graphics for desktop virtualization concepts and technology guide.
Citrix continues to build momentum in the 3D accelerated graphics market, and HP is especially excited about Citrix leadership and launch of NVIDIA GRID™ vGPU™ technology on Citrix XenDesktop 7.1. Citrix brings the power of the new NVIDIA GRID cards together with XenDesktop and HDX 3D Pro to enable truly remarkable performance for secure collaboration of 3D Pro Graphics apps delivered from the datacenter.
NVIDIA GRID vGPU technology on Citrix XenDesktop 7.1 ensures businesses are able to give designers and engineers the ability to work remotely and still utilize graphics-intensive applications affordably. This means that all you 3D guys can use their notebooks and mobile devices to get the job done without being constrained by subpar performance provided by some software-emulated graphics. Not only that, it provides IT managers with that "I can sleep easy tonight" feeling knowing that application collaboration is being done securely and safely 'behind the glass'.
HP thinks it has a perfect complement to their own HP ProLiant WS460c Graphics Server Blade, which provides hardware accelerated graphics for desktop virtualization using the newest NVIDIA GRID K1 and K2 cards. The HP ProLiant WS460c Graphics Server Blade, coupled with Citrix XenDesktop 7.1 can help enterprises deliver comprehensive graphics acceleration capabilities for VDI in a blade form factor. It also now comes with the Intel Xeon E5‑2600 v2 12-core processors and 1866 MHz DDR3 memory and can provide up to 60 percent cost reduction per seat, when compared to previous generation workstation blades. Finally, it furnishes savings in power, space and management while achieving up to 4X improvement in user density with HP's Accelerated Graphics Card – which hosts up to 8 graphics-intense users per blade.
Click here to download and learn more