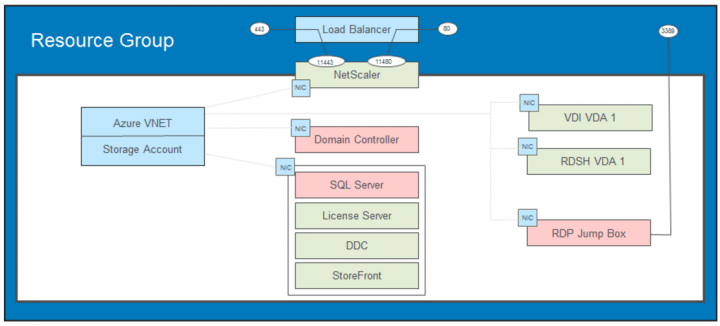 You can now try XenApp 7.8 in the Microsoft Azure Marketplace. This offering is the latest addition to our already existing portfolio in the Azure Marketplace, which includes NetScaler VPX (BYOL) and ShareFile StorageZones Controller.
With the XenApp Trial, you receive a 30-day trial license to evaluate a complete Citrix XenApp farm for your app virtualization needs within the Microsoft Azure cloud. All components necessary to connect to your Azure-based mobile workspace will be prepared and created for you. The easy-to-use template enables a "try before you buy" licensing approach.

This template provides you with everything needed to start a fully functional XenApp farm in the Azure cloud. Start with a simple test environment to experiment with cloud-based application delivery and grow to a full-production environment to deliver mobile workspaces from your XenApp Azure Cloud. All components needed to build-out the environment are included and will enable you to publish applications to users in minutes rather than days or weeks.
Citrix XenApp is the industry-leading solution for virtual application and desktop delivery, providing Windows apps and server-based desktops to workers on any device, anywhere. When deploying XenApp in Azure, applications and desktops are secured in the Azure cloud to protect sensitive information and enhance corporate security. Plus, with Azure's global and growing presence, you can now run your applications closer to your user base, thereby ensuring a great experience for them no matter where they are located.
Some of the benefits of testing XenApp in Azure are:
Fully validated and tested – 

You can stand-up a complete XenApp 7.8 environment anywhere in the Azure cloud with a single-click. Azure currently supports 

22 global regions

, and growing, so you can deliver apps close to your user base. The XenApp Trial has been validated and is fully conformant to the 

Citrix on Azure reference architecture

.

Simplify evaluation

 – You can quickly evaluate what's new in our latest XenApp release, without expensive manual setup time.

Accelerate app compatibility

 testing – XenApp in the Azure Marketplace provides an easy way for you to test the hosting and end-user experience of delivering apps from the Azure cloud.

Customize and extend 

– Adapt the Azure Resource Manager (ARM) solution template underpinning the XenApp offering to customize and extend your XenApp offering. For example you can create different XenApp topologies like multi-site, backup site, etc. to fit your specific needs