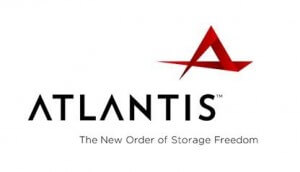 Atlantis Computing, the leading provider of Software-Defined Storage (SDS), has announced the expansion of its hyperconverged appliance product line with the introduction of the Atlantis HyperScale CX-4 model and the availability of all models on the Dell PowerEdge FX2 server platform. 

The CX-4 appliance is a two-node hyperconverged integrated system with compute, all-flash storage, networking and virtualization designed for remote offices, branch offices (ROBO) and micro data centers.
With 4 TB of effective storage capacity and 48 compute cores in a compact 2U footprint, Atlantis HyperScale enables IT organizations to meet all the infrastructure requirements of their remote sites, simplify operations, cut costs and ensure that all critical data remains safely backed up to a central site. At a starting price of $43,000 for a two-node configuration (including 3 yrs. of 24×7 support), the Atlantis HyperScale CX-4 is the most affordable hyperconverged appliance on the market and includes data protection, high availability and disaster recovery capabilities at no additional cost.

"The new Atlantis HyperScale CX-4 truly meets an unmet need in the industry and is a game changer for our ROBO customers," said Chetan Venkatesh, president and CEO of Atlantis. "Prior to this offering, it would be unheard of for a ROBO environment to be equipped with an all-flash hyper-converged appliance because of the cost."
Atlantis technology is known for transforming the economics of a datacenter, and the CX-4 is no different. It provides the lowest entry point cost for any hyper-converged appliance and a simplified deployment process that pre-configures networking for each remote appliance to connect to central Atlantis Manager virtual applaince. Atlantis customers can experience the agility, efficiency and assurance they covet while also seeing drastic savings in ROBO infrastructure and operations costs.  
Factory Integrated Atlantis HyperScale Appliances Available on Dell PowerEdge FX2 Platform
As a result of the high volume of customer requests, Dell is teaming with Atlantis to provide the entire line of Atlantis HyperScale all-flash hyperconverged appliances on their PowerEdge FX2 platform. Atlantis HyperScale CX-4, CX-12 and CX-24 appliances are now available on Dell servers through Dell distributors and channel partners in the U.S., Europe and Middle East, shipped directly to customers.

The joint Dell and Atlantis solution, targeted at mid-market customers, is the first hyperconverged offering available on the Dell FX2 platform, which combines blade server density and integrated 10GbE switching with the cost-effectiveness of rack servers. The appliance's integrated networking simplifies cabling and provides better network performance between the hyperconverged appliance nodes compared to other hyperconverged appliances that require a separate 10GbE switch. 
"Adding Dell to our portfolio will expand the reach of Atlantis HyperScale benefits," Venkatesh said. "Since launching Atlantis HyperScale, one after the other, customers are telling us how much money they're saving, how much faster they can deploy and react and how much simpler their jobs have become. With Dell as a partner, we'll be able to introduce these benefits to a much wider market and giving customers more technology freedom."