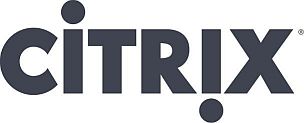 Today, at the NVIDIA GPU Technology Conference (GTC) in San Jose, California, Citrix and NVIDIA unveiled a technology platform for private and public clouds that combines NVIDIA's new VGX™ virtual GPU technology with Citrix's XenDesktop and XenServer hypervisor desktop virtualization solution.
Citrix GM and VP, Sumit Dhawan, joined NVIDIA's CEO Jen-Hsun Huang on stage at the GTC keynote. Together they introduced a new breakthrough technology for delivering 3D graphics from the cloud(both Public Clouds and Private Clouds).
In this demo, Nvidia showed off an iPad running Citrix Receiver connected to the VGX virtual GPU and displayed a 3D simulation running in Autodesk on Windows that ran in real time. A second demo showed Grady Cofer (visual effects supervisor at Industrial Light & Magic) using a Macbook Air to remotely access the ILM render farm to make changes to a scenes from The Avengers and Battleship in real-time.
Accourding to Derek Thorslund, Director of Product Management, HDX at Citrix : "Applications and desktops are becoming increasingly graphical, so it is imperative that desktop virtualization systems provide cost-effective solutions for rendering and delivering 3D graphics with no compromise in user experience. And at Citrix, we well know that more and more employees are demanding access from non-traditional devices such as tablets and smartphones. Mobile workers need to use these devices to access data, video and more. And organizations want to keep the data and applications safe and manageable in the private cloud."
The NVIDIA VGX™ GPU hardware virtualization extends GPU capability beyond power users like design engineers and radiologists to other workers in the organization who need access to large 3D models but don't require the power of a dedicated graphics card. Citrix and NVIDIA is currently working aggressively to integrate VGX into the XenServer hypervisor and Citrix is looking forward to beginning joint beta trials of hardware-based vGPU before the end of this year.
Scalability of this new technology looks very promising. Says, Derek Thorslund.
GPU sharing has been available for some time with XenApp HDX 3D, but it has been limited to DirectX-based applications compatible with Windows Server 2008 R2 Remote Desktop Services (RDS), with scalability of no more than 10 or 12 users per high-end graphics card. With XenDesktop HDX 3D Pro, you get both OpenGL and DirectX based applications, but it's still a 1:1 GPU architecture, although virtualized with XenServer. Citrix expects that their NVIDIA VGX-accelerated XenDesktop platform will be able to serve up to 100 users with a single multi-GPU graphics card, improving user density on a single server by an order of magnitude and slashing the cost of a 3D graphics capable virtualized PC to under $1,000.
This new solution offers unrestricted app compatibility since it runs standard Windows 7 virtual desktops and supports both DirectX and OpenGL based applications. VGX also improves interactivity by providing direct access to the GPU frame buffer. It maintains high performance even with large 3D models since there is no need to transfer the data from the user session to another session (API intercept model).
With the NVIDIA VGX platform in the data center, employees can now access a true cloud PC from any device — thin client, laptop, tablet or smartphone — regardless of its operating system, and enjoy a responsive experience for the full spectrum of applications previously only available on an office PC.
NVIDIA VGX enables knowledge workers for the first time to access a GPU-accelerated desktop similar to a traditional local PC. The platform's manageability options and ultra-low latency remote display capabilities extend this convenience to those using 3D design and simulation tools, which had previously been too intensive for a virtualized desktop.
Integrating the VGX platform into the corporate network also enables enterprise IT departments to address the complex challenges of "BYOD" — employees bringing their own computing device to work. It delivers a remote desktop to these devices, providing users the same access they have on their desktop terminal. At the same time, it helps reduce overall IT spend, improve data security and minimize data center complexity.
"NVIDIA VGX represents a new era in desktop virtualization," said Jeff Brown, general manager of the Professional Solutions Group at NVIDIA. "It delivers an experience nearly indistinguishable from a full desktop while substantially lowering the cost of a virtualized PC."
Last week at Citrix Synergy San Francisco, Citrix announced an upcoming new release of XenDesktop HDX 3D Pro, which is scheduled to ship at the end of June 2012, as part of XenDesktop 5.6 Feature Pack 1.
With this new release comes the first solution on the market to leverage NVIDIA VGX™ for faster frame buffer access.
XenDesktop 5.6 FP1 HDX 3D Pro provides a very responsive user experience, even over 1.5 Mbps T1 connections. Citrix calles it "vGPU ready", which means that it will be compatible with XenServer VGX-based GPU hardware virtualization when available.
Derek Thorslund from Citrix says: "This opens up hardware-accelerated virtualized 3D professional graphics – both OpenGL and DirectX – and High Performance Computing applications to a large "second tier" of users who don't necessarily need a dedicated GPU.The possibilities for leveraging this new technology are truly exciting!"
NVIDIA VGX is based on three key technology breakthroughs:
NVIDIA VGX Boards. These are designed for hosting large numbers of users in an energy-efficient way. The first NVIDA VGX board is configured with four GPUs and 16 GB of memory, and fits into the industry-standard PCI Express interface in servers.
NVIDIA VGX GPU Hypervisor. This software layer integrates into commercial hypervisors, such as the Citrix XenServer, enabling virtualization of the GPU.
NVIDIA User Selectable Machines (USMs). This manageability option allows enterprises to configure the graphics capabilities delivered to individual users in the network, based on their demands. Capabilities range from true PC experiences available with the NVIDIA standard USM to enhanced professional 3D design and engineering experiences with NVIDIA Quadro® or NVIDIA NVS™ GPUs.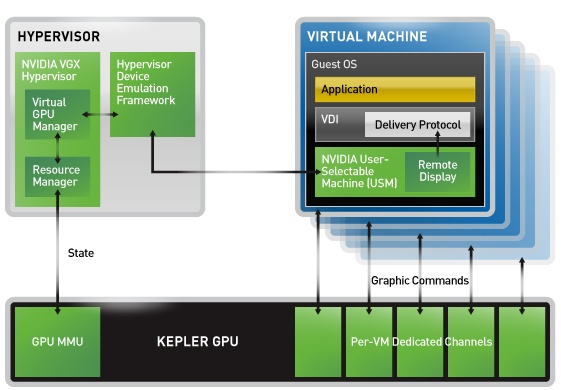 NVIDIA VGX GPU Hypervisor
The NVIDIA VGX GPU Hypervisor is a software layer that integrates into a commercial hypervisor, enabling access to virtualized GPU resources. This allows multiple users to share common hardware and ensure virtual machines running on a single server have protected access to critical resources. As a result, a single server can now economically support a higher density of users, while providing native graphics and GPU computing performance.
This new technology is being integrated by leading virtualization companies, such as Citrix, to add full hardware graphics acceleration to their full range of VDI products.
{loadposition content_starwind600}