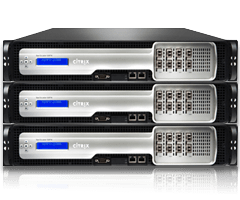 Citrix prepps the market with the release of the CloudBridge CSX solution. The unit is powered by the new CloudBridge 2000WS appliance. The new CloudBridge appliance helps consolidate the number of physical servers needed at the branch location by uniting full wide area network (WAN) Optimization capabilities with a new, pre-configured Windows Server.  The CloudBridge CSX Solution combines the new CloudBridge appliance with applications provided by partners Qumu, Talon and Cortado to offer the most critical services needed at the branch – video distribution and streaming, multi-site file collaboration, and localized print services. 
Several IT managers are increasingly adopting cloud-based architectures and leveraging third-party providers to lower costs and achieve unlimited scalability. One of the challenges in doing so is upholding the application experience for branch office employees while containing infrastructure costs. IT managers typically retain servers at the branch to ensure that specific services are still delivered locally. The combination of this new CloudBridge CSX Solution with partner add-ons eliminates the need to maintain additional servers at the branch, making it a significant cost savings proposition for enterprise IT.  Unlike its competitors that only offer WAN optimization solutions to address tactical issues of high-cost connectivity, CloudBridge addresses application delivery and the needs of branches that are migrating to the cloud. And for organizations that need to run branch applications, CloudBridge now offers up to two virtualized Microsoft Windows Server instances to run these critical applications.
Citrix Ready CSX for CloudBridge
To help customers accelerate deployment of Citrix CloudBridge solutions, Citrix is announcing new Citrix Ready validations. The new "Citrix Ready CSX for CloudBridge" designation indicates a tested and validated integration with CloudBridge. This new Citrix Ready category explicitly indicates compatibility with the CloudBridge solution and minimizes risk for joint customers when deploying partner solutions with CloudBridge.  Qumu, Talon and Cortado are the first partners to be "Citrix Ready CSX for CloudBridge" verified. 
Qumu – The Qumu Video Control Center, a unified video and webcasting platform enables enterprises to exercise complete control over video content while enabling consumption over any device. The VideoNet Edge component of the Qumu solution, verified as Citrix Ready, enables management of a video delivery service over a WAN efficiently, while cutting IT infrastructure cost.
Talon – Talon's RemoteFAST™ provides Microsoft File Aware application acceleration and storage caching solutions for branch office infrastructure.  RemoteFAST, which is verified as Citrix Ready, enables full-scale branch office consolidation and eliminates performance bottlenecks with large files.  RemoteFAST provides branch offices with scalable and reliable application performance along with business collaboration across distributed workforce environments along with network and application performance, visibility and real-time traffic monitoring.
Cortado – Cortado's ThinPrint solution provides professional print management for Citrix XenDesktop environments. The ThinPrint Connected Gateway, which is verified as Citrix Ready, enables high performance branch printing while reducing the overall cost of the printing infrastructure.
CloudBridge 2000WS features:
Microsoft Windows Server Instances and Storage – The CloudBridge 2000WS extends the widely adopted CloudBridge 2000 platform to include up to two instances of Microsoft Windows Server and additional storage for Windows applications. Delivering up to 50 Mbps optimized connectivity and video caching, the CloudBridge 2000WS enables the execution of branch critical Windows workloads in a compact, integrated solution.
New Built-in and Network Accessible Visibility Features – The CloudBridge 2000WS is powered by the latest CloudBridge software release (Release 7.2), which also incorporates a broader set of built-in and network accessible visibility features. Release 7.2 delivers AppFlow records that can be collected by third-party management solutions. The release includes enhancements for video caching, enterprise grade AAA features and clustering for configuring up to 16 Gbps of WAN optimization in the datacenter utilizing the WCCP protocol.
{loadposition content_starwind600}