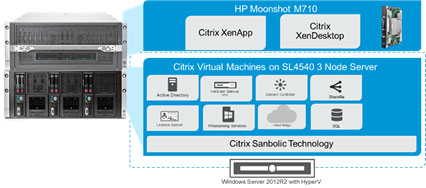 The Citrix-HP Alliance continues to deliver tremendous value. Ever since HP created the Moonshot hardware platform, Citrix recognized the potential of this complete server system that has been engineered, tested and integrated for workload-specific performance, and delivered in a dense, energy-efficient package. Because there is no hypervisor or SAN to purchase, manage, or maintain, we have worked closely with HP to find new ways use this key advantage to deliver compelling mobile workspace environments with mind-blowing performance.
Last November, Citrix updated the CS100 converged system to include the HP Moonshot ProLiant m710 cartridge with the Intel E3 chipset. It has been built, tested, and validated with XenApp, which not only delivers amazing graphics, but tests have shown the capacity to scale to more than 2,300 XenApp users in one chassis.
At Citrix Summit in January 2015, Citrix and HP announced a new product together called the Citrix WorkspacePod™. The HW is powered by HP uniquely integrates Citrix workspace infrastructure software with HP's Moonshot platform and the HP ProLiant SL4540 storage server to integrate compute, storage and networking delivering rich apps and desktops that combine exceptional value, performance and flexibility.
Citrix WorkspacePod Powered by HP advantages include:
Hardware savings up to 40 percent 

– compared to traditional SAN based architectures.

Multiple times greater user density per rack with significant energy savings

 – offering three times the user density per rack at less than one watt per user.

High performance networking

 – that includes integrated 40 gigabyte switching between compute and storage.

Superior graphics performance

 – with integrated CPU/GPU to support rich applications and desktops with motion graphics and server-rendered video.

Redundancy and availability 

– providing a fully redundant and highly available system for infrastructure, storage and workloads.
 In fact, the HP Moonshot platform, with server cartridges that are specifically designed for XenApp and XenDesktop have been so successful, Citrix has earned the HP PartnerOne Mobility Award for 2015.