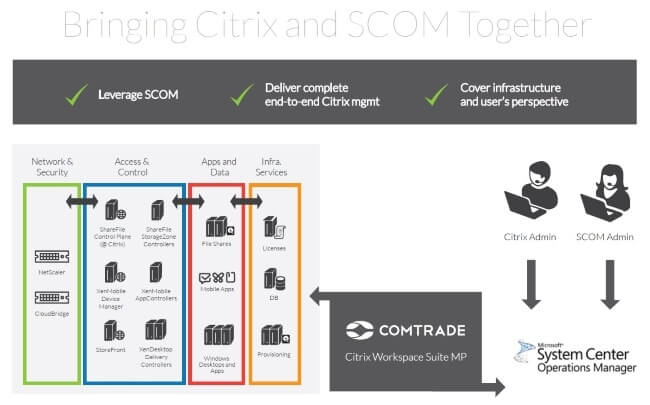 To extend the monitoring capabilities of Citrix delivery infrastructure end-to-end and tighten integration with Microsoft products, Citrix has acquired the Citrix-specific management pack (MP) technology from Comtrade. Comtrade is a Citrix Ready Premier member and Microsoft Gold ISV Partner—is a recognized provider of enterprise application and infrastructure management solutions that bring native integration to Microsoft System Center Operations Manager (SCOM). Their management products have been widely used by hundreds of customers worldwide for close to a decade to bridge the gap between Microsoft SCOM and business critical IT solutions.
Comtrade System Software & Tools (Comtrade), a leading provider of IT infrastructure and application management and monitoring solutions, today announced that its Citrix management packs were acquired by Citrix, a strategic, long-term partner of Comtrade.
The acquisition of Comtrade's management packs for Microsoft System Center Operations Manager (SCOM) provides Citrix users with comprehensive, end-to-end monitoring, delivering single pane of glass visibility into the entire Citrix desktop virtualization, network and mobility environment. Customers can proactively monitor the quality of the Citrix end user experience and infrastructure health performance across market-leading products, such as XenDesktop, XenApp, XenMobile and NetScaler, all while leveraging the existing monitoring platform. This functionality enhances the IT department's ability to deliver 24/7, high availability service with proactive alerting and rapid root cause identification across all Citrix components and dependent infrastructures, ensuring a high-quality mobility experience for end users.
"Comtrade has created valuable native integration of monitoring services for XenApp, XenDesktop and Citrix Workspace Suite with Microsoft SCOM, giving enterprises true end-to-end management of the Citrix environment from one console," said Calvin Hsu, vice president of product marketing, Windows App Delivery at Citrix. "By bringing Comtrade management packs in-house, we will be able to provide our customers with greater control over their infrastructure and end user performance."
Today's announcement came during the Citrix Summit 2016 in Las Vegas. Hundreds of customers worldwide are already deploying Comtrade management packs for Citrix, and those customers will continue to receive Comtrade support. New customers who purchase Citrix XenApp and XenDesktop Platinum editions will receive the Comtrade management packs and support services as a standard offering.
"For more than 20 years, Citrix has been the clear leader in secure application delivery, along with delivering market-leading desktop virtualization and mobility technology worldwide. At Comtrade, we've invested a great deal of resources and manpower to ensure that every Citrix product has a management solution that connects to Microsoft SCOM," said Simon Taylor, general manager and senior vice president, Comtrade. "Our management packs are the world's finest, because they not only collect, but also analyze and present data in a compelling way that allows IT teams to troubleshoot underlying infrastructure issues and deliver an unparalleled experience to end users over any device, any network, anywhere."
Comtrade will continue to push further advancements and innovate in the enterprise infrastructure and application performance management space, developing new products and integrating more business critical systems with leading management platforms, such as Microsoft System Center, and public cloud. To learn more about Comtrade, visit www.comtradeproducts.com.
The add-on packs for SCOM listed below will be exclusively available from Citrix, and an entitlement to XenApp and XenDesktop Platinum customers with active Subscription Advantage (SA) or Software Maintenance (SWM) at no extra cost. They will be available for download on Citrix.com in Q1.
•     XenApp

•     XenDesktop

•     XenServer

•     StoreFront

•     Web Interface

•     Provisioning Services

•     License Server

•     NetScaler

•     CloudBridge
These SCOM add-ons unify monitoring of your XenApp/XenDesktop infrastructure with the rest of your IT infrastructure, allowing for a true end-to-end management from a single console. One of the key advantages of these management packs is their ease of use. If you know how to use Microsoft System Center Operations Manager, you already know how to operate these management packs.
SCOM Packs Complement Citrix Director and Offer Additional Value
The SCOM packs integrate Director's help desk capabilities and add additional detail for admins to monitor their infrastructure and workloads—all from a single pane of glass. And the latest version of Director can also aggregate SCOM alerts into the helpdesk dashboard for enhanced troubleshooting. Additional value using SCOM packs with Director include:
End-to-end Citrix infrastructure monitoring including XenApp, XenDesktop, StoreFront, Web Interface, Provisioning Services, License Server, XenServer, NetScaler and CloudBridge

Aggregate health overviews across multiple sites and versions with SLA dashboards

Advanced monitoring of applications, delivery groups and sites

Advanced user experience monitoring, with expanded alerts, for logon and session performance

Launch Director within the management pack GUI to drill into user sessions from SCOM alerts

Topology views with detailed relational information
Citrix also acquired the XenMobile and ShareFile management packs from Comtrade, and more information about those will be forthcoming after we evaluate and finalize our packaging options.