Hosted MobileMail incorporates email, calendaring and contact features into a mobile-friendly Windows application that can be delivered securely to any mobile device with Citrix Receiver from an enterprise datacenter via Citrix XenApp or XenDesktop. MobileMail incorporates email, calendaring, contact, and collaboration capabilities into a single micro app that runs securely in the datacenter and is delivered to mobile devices by Citrix XenApp and XenDesktop. MobileMail tightly integrates with Microsoft Exchange and brings many enterprise communication features to any mobile device running Citrix Receiver. MobileMail enables corporate data to b e highly mobile while providing an enterprise-class security solution. The following diagram provides an overview of how MobileMail works. MobileMail communicates with the Exchange server via a secure HTTPS connection using the Exchange Web Services API. MobileMail is then presented to the user via the HDX channel that remotes the server graphics to the user's device.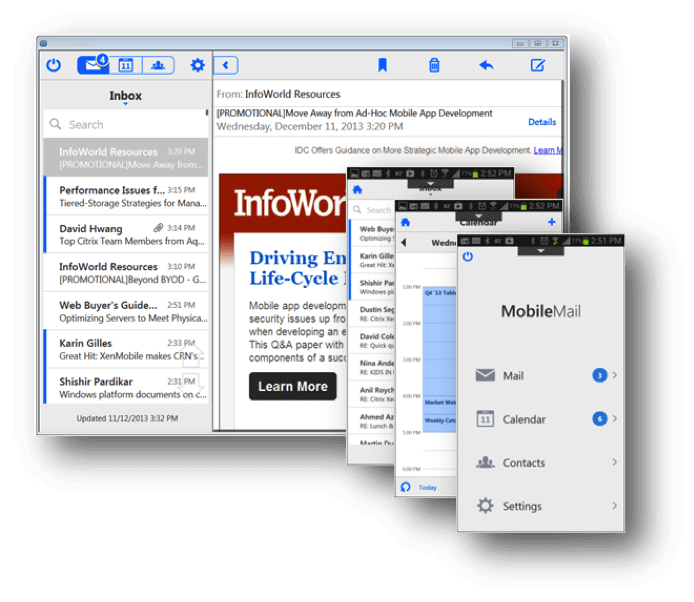 Key Features for Hosted MobileMail 3.0 are:
High security: data is kept in the datacenter, not on the device
Hosted MobileMail integrates with Microsoft Exchange via Exchange Web Services (EWS) with the mailbox data remaining in the datacenter, ensuring the data will be both highly mobile and secure.
Simple management: deploy once, deliver to any device
Hosted MobileMail is managed centrally and delivered via HDX and Citrix Receiver across multiple mobile platforms and device form factors without the need to worry about platform compatibility or deployment concerns.
Quality user experience: a mobile look and feel hosted on Windows with Citrix
Hosted MobileMail leverages mobile-focused features in Citrix XenApp, XenDesktop and Citrix Receiver that optimize the mobile user experience and provide rapid and secure connections/reconnections to hosted applications.