As the leader in Mobile Workstyles, Citrix is addressing critical new enterprise needs for the mobile device
centric world to which organizations are migrating.  The Mobile Application SDK leverages the new XenApp Native Device Experience feature introduced in the XenApp 6.5 Mobility Pack Tech Preview and the Receiver for Android 3.0 Tech Preview.
This new developer toolkit is targeted for use by enterprise developers, System Integrators, and ISVs to create new mobile-friendly applications to be hosted on XenApp. These applications leverage customers' existing Citrix infrastructure and enable them to deliver mobilized, touch-enabled applications while keeping sensitive corporate data secure in the data center and not cached on easily lost, misplaced, or stolen mobile devices.
The Citrix Mobile Application SDK provides over 50 specific mobile API's that can be used from any enterprise Windows development environment.  These APIs allow developers to create touch enabled UI's for new and existing enterprise applications.  With these new APIs the applications can leverage the unique capabilities of smartphones and tablets, allowing full access to device sensors and capabilities such as GPS, camera, and accelerometer.  This sensor information can then be relayed back to and used by an enterprise application hosted on XenApp in the data center. This capability is novel and innovative as up till now it has not been possible for Windows applications in the datacentre to access these new device
capabilities.
Avanade, a Citrix System Integrator partner, has used the SDK to create a Utility Monitoring application that uses location services information and camera images that are remoted back via Citrix Receiver to the application running in the data center as illustrated in the screen capture below.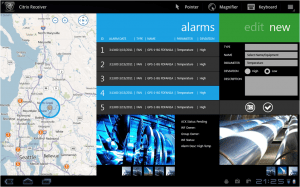 Click here to learn more about the XenApp 6.5 Mobile Application SDK
More information and download links are available at the following:
Mobile Application SDK – Tech Preview
XenApp 6.5 Mobility Pack – Tech Preview
Receiver for Android 3.0 – Beta is available on the Android Market
GoldenGate Mobile Email – Tech Concept Release
Alcatraz PINPad – Tech Concept Release