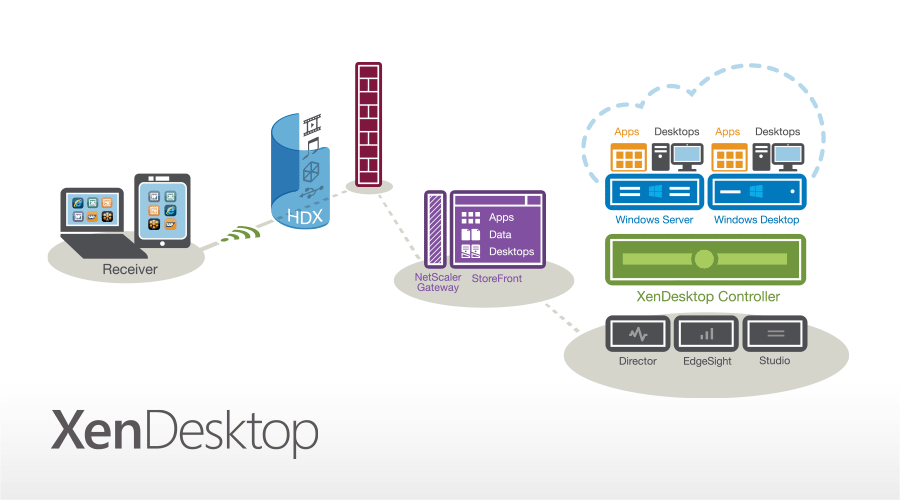 As announced at Citrix Synergy 2013 in Los Angeles in May, XenDesktop 7 is now released to web.
XenDesktop 7 packs both XenApp and XenDesktop into the same product. Simplifying both delivery of Virtual Desktops and Applications to end users. A hole bunch of new HDX stuff is in there as well, like the new HDX Mobile which optimizes Windows apps for native look and feel. Here are some of the HDX Mobile features:
HDX Mobile optimizations translate multi-touch gestures, finger swipes, and inertia into smooth navigation and scrolling commands that are relayed to the hosted Windows apps in real-time, without the need for re-writes.
HDX Mobile also offers native menu controls that translate pull-down lists and complex mouse navigation into the native controls built in to the mobile device for smoother app navigation. This includes intelligent sensing of text-entry fields which automatically launches the local device keyboard when needed – while ensuring the underlying text box is visible.
HDX Mobile SDK for Windows Apps gives enterprise developers the power to optimize their existing Windows apps for any mobile environment, including automated dynamic formatting of the app for horizontal or vertical display or different screen sizes.
HDX deep compression and redirection technologies are specifically designed to deal with mobile broadband networks and consumer devices. IT can deliver full HD video over 3G networks, leveraging the power of smartphones and tablets to decode video graphics while offloading compression to the server side through shared GPU acceleration.
A redesigned Citrix StoreFront unifies app and desktop access through a simple, consistent user experience, including seamless transitions between devices that pick up where the user left off – all while maintaining subscriptions for a continuous experience.
Clientless Receiver allows for the rendering of apps and desktops in a browser, in the event that a native Receiver cannot be installed on a user's device.
Also, XenDesktop 7, comes with AppDNA built in, to speed up migration projects from older version of XenApp or Microsoft operating systems.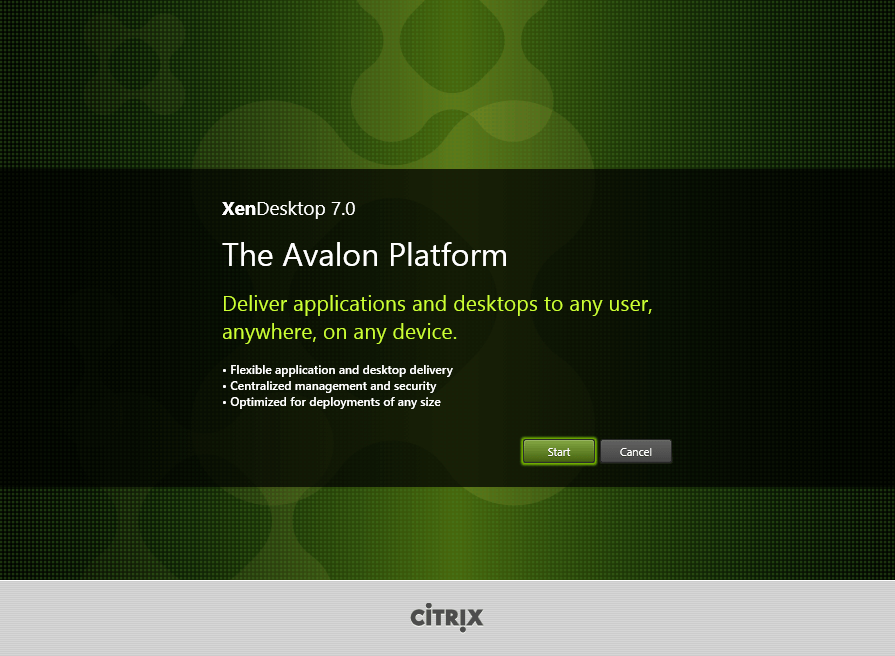 What's new in XenDesktop 7
Simple Unified Flexcast Management Architecture  (FMA) providing administrators to not only deliver virtual desktops and apps running on Windows 8, Windows 7, Vista and XP, but also server-hosted desktops and apps from Windows Server 2012, Windows Server 2008R2. Enterprise administrative capabilities for Configuration Logging and Delegated Administration.
New High Definition Experience capabilities in XenDesktop 7 deliver rich apps and desktops to any device. Adaptive H.264 in the SuperCodec ensures smooth video playback even on 3G connections, with 2X performance improvements and up to 10x reduction in bit rate when playing HD videos. HDX 3D Pro has been extended to Hosted Shared workloads, offering deep compression, higher frame rate and GPU sharing for DirectX and OpenGL. Mobile devices users benefit from multi-touch gesturing, including swipe for scrolling, pinch & zoom for re-sizing the apps and file within the app.
Secure delivery of any Windows applications, especially 3D and graphical intensive applications to users on any device, protecting the intellectual property and maintaining privacy protection of organizations that rely on Citrix technologies.
Advanced Troubleshooting with new enhanced XenDesktop Director to assist help desk admins and escalation engineers have one support console for troubleshooting & supporting XenDesktop 7 users. Through this simplification effort, customers stand to benefit from the reduced costs with centralized management and automation.
Expanded Microsoft Integration enabling to include Provisioning Services support for Microsoft SCVMM 2012 SP1 , SCCM 2012 and SCCM 2012 SP1.
Microsoft Application Virtualization (App-V) lets you deploy, update, and support App-V applications. Using Studio, you configure delivery of App-V applications to users through Delivery Groups along with locally installed applications.
Better supportability through built-in Citrix Error Reporting capability, intuitive error messaging, configuration and environmental checking to minimize/eliminate configuration errors, improved install and configuration workflow.
Machine Catalog Desktops and Applications
Desktops — Deliver managed desktops to multiple, simultaneously connected

remote users. Server OS Machine and Desktop OS Machine desktops provide 

features such as SmoothRoaming, session reliability, license consumption, 

Receiver and Delivery Services authentication, and Desktop Viewer. This release 

introduces Windows Server OS Machine catalogs and desktops as a cost-effective 

virtualization delivery solution because they provide a significant number of 

remote users per server and storage resource. This release also provides Remote 

PC desktops that let users access resources on their office PCs remotely, from 

any device running Citrix Receiver.

Applications — Integrate XenApp publishing capabilities within a deployment. 

Use this feature to deliver shared hosted applications to multiple, 

simultaneously-connected remote users.
HDX enhancements
Windows Server 2012 and Windows 8 support — Deliver a high-definition user 

experience on Windows 8 virtual desktops and physical machines. HDX 3D Pro has 

also been upgraded to support Windows 8.

Desktop Composition Redirection — Extend the Aero Redirection feature 

introduced in XenDesktop 5.5 to provide users with a more fluid Windows 7 Aero 

or Windows 8 desktop experience by leveraging the graphics processing unit 

(GPU) or integrated graphics processor (IGP) on supported Windows client 

devices for local DirectX graphics rendering. This feature delivers rich 

multimedia applications to clients, while maintaining high scalability on the 

server.

Windows Media client-side content fetching — Enable a client device to stream 

multimedia files directly from the source provider on the Internet or Intranet to 

improve network utilization and server scalability. 

Multicast support — Reduce bandwidth consumption when streaming live video 

to branch offices. Multicast support enables a single Windows Media source 

transmission to support multiple users.

Real-time multimedia transcoding — Enable audio and video streaming to 

mobile devices, improving the way that Windows Media content is delivered. 

Host-based transcoding provides a seamless user experience, even in extreme 

network conditions. To improve server scalability, if the Virtual Delivery Agent 

has a supported graphics processing unit (GPU) for hardware acceleration, 

transcoding is done in the GPU.
Flexcast Management Architecture
Delegated Administration

Hosted Shared Desktop & Apps

IPV6 Support

Configuration Logging

Integrated Monitoring
HDX
High performance GPU sharing with H.264-based Deep Compression 

Windows Media Redirection 

Windows Media Multicast support 

Full support for Windows 8 with high level of interactivity and graphics 
User Personalization
Windows 8 Support

App-V Support

Integrated Install, Configuration and Trouble Shooting for UPM
Microsoft Alliance 
System Center 2012 / SP1 Support for Microsoft SCCM 2012 using MCS and PVS

Improved SCVMM2012 / SP1 support 

Support for local storage on Hyper-V
Supportability 
Integration of Studio with Citrix.com to track common errors

Operational Events 

Tools as a Service (TaaS) support via Scout tool to collect OS and Configuration information.

No touch licensing

Configuration and Environment Testing Support
Director 
EdgeSight performance management 

EdgeSight network analysis – With NetScaler Insight

Help Desk and Trouble Shooting 
Storefront
Integrated Installation & Configuration

Integration of HTML5 receiver

Smartcard support
For more information on what's new and to download click here ( requires a valid mycitrix.com account )
{loadposition content_starwind600}