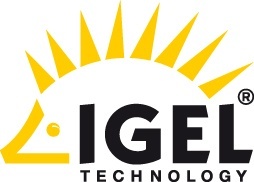 Innovations include the new ARM-based System on Chip (SoC) thin client, enhanced IGEL Appliance Mode and Universal MultiDisplay solution
IGEL Technology, Germany's leading manufacturer of thin clients, today unveiled its latest thin client innovations at Citrix Synergy™ 2012. IGEL is debuting its ARM-based Citrix Ready thin client in the US, its enhanced IGEL Appliance Mode and new Universal MultiDisplay solution.
Notable for its small size, low power consumption and exceptionally high multimedia performance, evaluation units of the new ARM-based thin client are  available immediately. This new multiprotocol thin client is based on a system-on-chip (SoC) design. Already proven in mobile and embedded applications such as smartphones and tablet computers, ARM's technology is now being used in IGEL thin clients to bring the same advantages of high performance, energy efficiency and small size.  The soon to be released device, based on a Texas Instruments chipset, will deliver a level of performance comparable to that of top models available in the thin client sector, including the capability to display full-screen HD video.
IGEL virtualization specialists will be demonstrating this innovative device live at booth #509 in the Citrix Synergy Expo.
Appliance Mode now available for Windows Embedded Standard 7
IGEL also announced that its Appliance Mode is now available for Windows Embedded Standard 7, allowing rapid, convenient and efficient access to virtual desktops. As a result, the IGEL appliance mode for Citrix XenDesktop® and VMware View is now available on all thin client operating systems for the IGEL Universal Desktop Portfolio with the Standard and Advanced firmware package.
With the Appliance Mode, IGEL customers have the choice between direct, convenient access to a VDI environment and needs-based provision of central IT and cloud services. With this solution, IGEL competes against specialized access devices such as zero clients, which are restricted to a manufacturer-specific VDI solution. Typical user scenarios for multiple IT access include those where specific applications or cloud services need to be available independently of the VDI environment, e.g. emergency, staff information and time recording systems or business-critical host applications. If necessary, IGEL customers can also provide such applications via a local web browser, terminal emulation or a Citrix XenApp™ or RDP session.
Universal MultiDisplay solution demonstration
Also on demonstration at the show will be the new IGEL Universal MultiDisplay solution (UMD) for Linux devices. Ideal for pubic facing advertising displays, security monitoring or displaying large amounts of information at a single desktop, IGEL's UMD solution connects multiple IGEL thin clients to one device supporting up to 8 displays.
To deploy the solution, customers require an IGEL Universal Desktop 5 Linux thin client to act as the master device with an additional PCIe Intel network card for a dedicated MultiDisplay network, which is included in the Starter Kit. A display license is also required for each additional display.
Any IGEL Universal Desktop thin client can be used as a satellite device and no additional hardware or software feature package is required.
Available from May 2012, visit www.igel.com for further information on the Starter Kit and additional license pricing.
Innovations include the new ARM-based System on Chip (SoC) thin client, enhanced IGEL Appliance Mode and Universal MultiDisplay solution