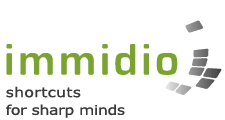 Immidio announced that they are releasing a brand new User Environment Management (UEM) solution: Flex+. Immidio Flex+ provides end-users with a personalized and dynamic Windows desktop, adapted to their specific situation based on aspects like role, device and location.
With Flex+, Immidio offers an extremely competitive UEM solution, requiring no additional backend infrastructure investments, and at a fraction of the price of comparable solutions.
Immidio Flex+ is the successor of Flex Profiles – the most successful Windows profile management solution, with over 2 million users worldwide. Driven by a changing landscape for the workplace, where end-users expect to work anywhere, anytime and on multiple devices (including their own), Immidio developed Flex+ in close collaboration with its large customer base.
Immidio Flex+ offers a desktop that adjusts to the actual situation of the end-user, providing access to the IT resources that are required based on a user's role, device and location. Many organizations suffer from hidden productivity loss as a result of ad hoc activities like manually mapping network drives and printers or providing application shortcuts to end-users. This so-called distortion not only impacts IT departments but also affects end-users. The relevant user experience that Flex+ offers, significantly eliminates this distortion.
The release of Flex+ is a major milestone in Immidio's history. We have been able to develop a low-cost high-end solution that will bring great value to our customers. Flex+ scales seamlessly with the existing Microsoft infrastructure, is implemented in a matter of days and does not need any additional back-end infrastructure. Flex+ has the lowest TCO in the market!
"UEM that fits", is the key message. Immidio Flex+ distinguishes itself from other UEM solutions because it naturally fits your current architecture, infrastructure, timeline, and budget, regardless of whether physical or virtual desktops are used.
A whitepaper called "Immidio Flex+: User Environment Management that Fits" is available for download.
{loadposition content_starwind600}