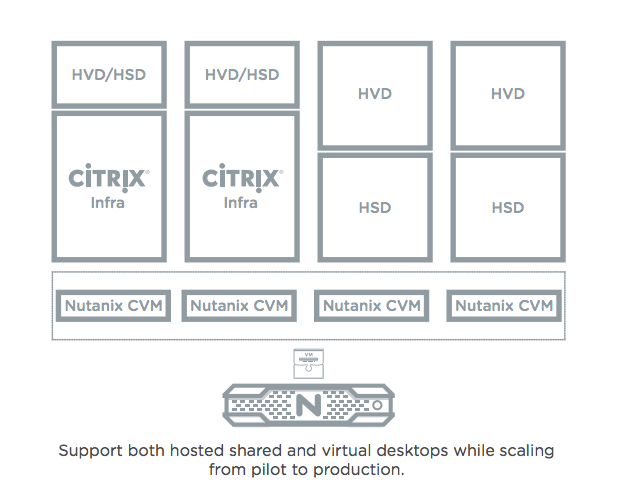 Nutanix and Citrix Application & Desktop Virtualization Brief . VDI & Application Virtualization with Citrix XenServer & Nutanix Enterprise Cloud Platform.
Controlling infrastructure complexity and cost is key to successfully deploying a new application and desktop virtualization environments. Whether you are virtualizing end-user applications or desktops, Citrix and Nutanix help you succeed. Nutanix Enterprise Cloud Platform—built on Nutanix Acropolis—combined with Citrix XenApp and XenDesktop powered by XenServer hypervisor provide a complete, fully supported solution for application and desktop virtualization that enhances enterprise security, enables workforce mobility, and lowers the cost and complexity of application, desktop, and infrastructure management by as much as 70%.
SIMPLE, SCALABLE DESKTOP AND APPLICATION VIRTUALIZATION
Make Infrastructure Invisible Nutanix and Citrix take the guesswork out of deploying application and desktop virtualization. Together, Citrix and Nutanix tools and reference designs simplify project sizing, streamline infrastructure and software selection, and accelerate implementation planning. The joint solution with integrated Citrix XenServer hypervisor, scale-out compute, storage and built in management, makes virtualization invisible allowing IT teams to focus on delivering business benefits. Scale Further When deploying an application and desktop virtualization solution, you have to size the infrastructure for future business growth even though your budget may be constrained by current workforce size. With Citrix and Nutanix, you can start with a small pilot project and grow to thousands of users without disruption, performance-related risks, or big upfront costs. With Nutanix Acropolis each node you add to a cluster scales compute and storage uniformly. Resources remain balanced, and infrastructure does not have to be replaced as your environment grows. Only the joint Citrix and Nutanix solution offers truly linear scalability and modular growth.
Click here to Download the Nutanix + Citrix Application & Desktop Virtualization Brief