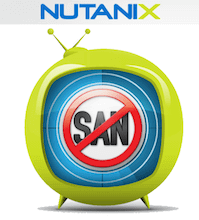 Nutanix, the web-scale converged infrastructure company, today announced validation of its private cloud reference architecture using Microsoft Windows Azure Pack, Windows Server 2012 R2 with Hyper-V and System Center. Customers can use any model of the Nutanix Virtual Computing Platform to create their own Microsoft Private Cloud. The configuration was validated by Microsoft for their Private Cloud Fast Track program and includes Windows Azure Pack, which enables organizations to deploy a turnkey, on-premises private cloud and true IT as a Service (ITaaS) environment. The Nutanix and Microsoft reference architecture provides faster deployments, reduced risk and lower cost of ownership using web-scale converged infrastructure.
With the rise of virtualization comes the need for IT infrastructure that is aligned with both virtualization and the cloud. Microsoft has developed the Private Cloud Fast Track program to create reference architectures for building flexible and highly scalable private clouds. This program combines Microsoft software, consolidated expert guidance and validated configurations with computing, network and storage architecture partners. The Private Cloud Fast Track program utilizes the core capabilities of the Windows Server 2012 operating system, plus Hyper-V technology and System Center to deliver the building blocks of private cloud infrastructure.
The Nutanix web-scale converged architecture allows organizations to start small and minimize upfront investments, and scale infrastructure on demand while delivering excellent performance for workloads such as Microsoft Exchange™ and SQL Server®, Citrix XenDesktop® and XenApp® and Oracle® databases. In addition, the Nutanix Prism management framework, in conjunction with System Center, intuitively organizes and presents compute and storage infrastructure and VM information at-a-glance for Nutanix clusters in single or multiple locations.  
The Nutanix validated reference architecture also incorporates the Windows Azure Pack into its design. This brings the power of Microsoft Azure technologies into the private cloud and facilitates a rich, self-service, multi-tenant hybrid cloud with Microsoft Azure-consistent experiences and services.
Highlights
Nutanix web-scale converged infrastructure solution has been validated in a Microsoft Private Cloud Fast Track and Windows Azure Pack reference architecture, speeding up deployments and enabling on-premise multi-tenant, self-service cloud capability

Start small with 3-node configurations and linearly scale to 100+ systems per cluster; add additional Nutanix nodes without the need to tune for more performance and capacity

Eliminate need for a separate storage system along with the associated complexity and performance bottlenecks

Deploy infrastructure for private clouds in just hours and eliminate as much as 50 percent management overhead versus traditional datacenter infrastructure

Ability to continuously operate, even if an entire node goes offline, using tunable redundancy for data, VMCaliber snapshots and replication plus a design free of any single points of failure
Microsoft Architecture
Microsoft Windows Server 2012 R2 with Hyper-V

Hyper-V for the Hypervisor

Windows Server 2012 R2 for guest server VMs

Microsoft System Center 2012 R2

System Center Orchestrator
System Center Virtual Machine Manager
System Center Operations Manager

Windows Azure Pack
Nutanix Architecture
Nutanix NX-3000 Series and NX-6000 Series Virtual Computing Platform running Nutanix OS 4.0.1 or later

Start with minimum of 3 and add additional nodes

Built-in dual 10 Gigabit Ethernet ports for VM connectivity
Quotes
"We are excited to work with Nutanix on the validated Microsoft Private Cloud Fast Track reference architecture," said Claude Lorenson, senior product manager, cloud and enterprise marketing, Microsoft. "The Nutanix web-scale infrastructure is an ideal complement to the Microsoft Cloud OS built on Windows Server 2012 R2 and System Center 2012 R2. Together with Windows Azure Pack, this architecture provides our joint customers with an efficient, high performance, and agile solution for running all their virtual server and desktop workloads in an hybrid cloud."
"We are extremely pleased to have closely worked with Microsoft to bring to market a validated reference architecture for Microsoft Private Cloud and Windows Azure Pack," said Venugopal Pai, vice president of global alliances and business development, Nutanix. "The validated design will help enterprises and service providers realize the time to deployment, efficiency and scalability benefits of the Microsoft Cloud OS and Nutanix web-scale architecture. Through ongoing engagement and product efforts, we are continuing to help our joint customers and channel partners derive greater returns from their cloud projects."
"Moving to a private and hybrid cloud model is the next logical step for virtualization in today's datacenter," said Christophe Isard, sales director, Diademys. "We are excited to work with Nutanix and Microsoft to help our clients make the seamless transition to this model, and gain all the agility and productivity benefits of an efficient and scalable cloud environment. The Nutanix web-scale solution for Windows Azure Pack and Diademys services together provide our customers with a solid foundation for deploying VDI and critical enterprise workloads on their own on-premises private cloud."