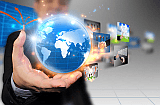 Quest®, one of the nation's leading technology management and consulting firms, today announced it is partnering with Desktone, Inc., the pioneer of Desktops as a Service (DaaS), to deliver cloud-hosted virtual desktops to the enterprise.
By leveraging Desktone's multi-tenant DaaS platform and NetApp's storage systems and management expertise, Quest is able to deliver cost-effective, full-featured virtual desktops to any device on-demand.
Quest provides business technology consulting and solutions to enterprises ranging from SMBs to Fortune 500 companies and is a NetApp Service Provider Partner. Quest's Cloud Services provide end users with affordable, efficient IT infrastructure and managed services solutions. Through the partnership with Desktone and NetApp, Quest will add turnkey virtual desktops and server capabilities, meeting customer demand for desktop security, support, availability and performance on a variety of end user devices.
Announced in August 2011, the collaboration between Desktone and NetApp makes it easy for service providers like Quest to offer complete virtual desktops in a truly scalable cloud environment.
"With the rise in workforce mobility, we're seeing demand from our customers for technology solutions that support all types of devices, from smartphones and tablets to MacBooks and PCs," said Tim Burke, CEO, Quest. "We evaluated traditional virtual desktop infrastructure (VDI) vendors but realized they are missing many of the features required by service providers. With Desktone's DaaS expertise and NetApp's extensive storage technologies we're able to quickly provide our customers with flexible, secure virtual desktops whenever and wherever they are needed."
"Windows 7 migrations, more remote workers and need for mobile support are putting increased management burdens on IT professionals," said Peter McKay, CEO, Desktone. "Service providers are looking for a complete desktop 'as a service' solution for their customers and are finding that shared desktop technologies and traditional VDI can't provide the flexibility, performance or ROI they require. These technologies, which were built for on-premise deployments, cannot be moved to a cloud service delivery model. We're extremely pleased that such a prominent IT outsourcing provider chose Desktone to deliver DaaS."
The Desktone DaaS platform is the industry's only multi-tenant virtual desktop platform, with tiered role separation and flexibility built in to easily scale with end user needs. DaaS makes it simple to provision desktops for any device in just minutes, easing IT management burdens and reducing the total cost of desktop ownership while ensuring superior end user performance.
"Moving workloads and IT functions to the cloud can provide businesses with significant business agility and cost-savings benefits," said Julie Parrish, senior vice president, Worldwide Partner Sales, NetApp. "NetApp has worked closely with Desktone and Quest so that customers leveraging their DaaS offering can take advantage of the secure multi-tenancy, integrated data protection and storage efficiency capabilities unique to NetApp to achieve greater flexibility and efficiency.Today's announcement represents another example of how NetApp is working closely with innovative service providers such as Quest and Desktone to help customers achieve greater agility and reach new levels of business success."
Quest's DaaS offering will be available beginning in February 2012. For more information, please visit https://www.questsys.com/.
To learn more about the solution, attend the free webinar, "The Cloud: A New Alternative to Desktop Virtualization" on March 1 at 2pm ET. Click here to register for the webinar.