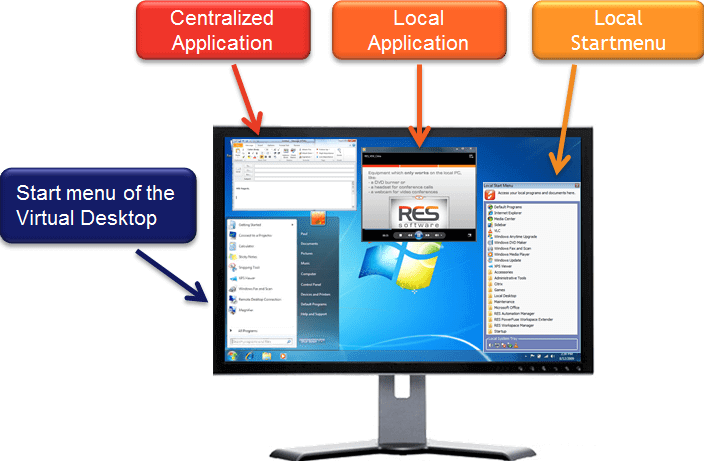 VDX provides a simple, cost-effective way to introduce Bring Your Own PC (BYOPC) models, increase VDI adoption and separate personal desktop environments from corporate environments.VDX enables user to access and run their personal and local applications seamlessly from within their virtual desktop as if they were centrally running applications. This capability makes centralized desktop environments, such as VDI or RDS, more viable for a larger group of users within organizations.
With the release of RES VDX 2014 – the latest reverse seamless Windows technology – desktop virtualization gets easier with more application support in more environments.
What is RES VDX?
The patented RES VDX technology allows local applications to be displayed seamlessly invdx overview graphic both remote and virtual desktop sessions. All this can be accessed in one single session, whereas, in the past, the two simply could not co-exist. This is especially the case with 2D/3D CAD, unified communications, and intensive financial apps.
Because applications that end users rely on are merged within a remote desktop into a single desktop, users no longer need to switch between multiple sessions. VDX allows IT to increase user productivity in virtual desktop environments and enhance users' overall desktop experience.
What's New in VDX 2014?
Enhancements
The latest release of RES VDX offers the following support enhacements:
Support for Windows 8 and higher and Windows 2K12 and higher
Support for client side Top Most applications
Better support for applications like Autocad, Chipsoft, Voyager and many other difficult to virtualize applications
New Features
New RES VDX Start Menu – 

The latest RES VDX Start Menu has a new look and offers the possibility to continuously display the local notification area.

Localization of the RES VDX Context Menu – 

The RES VDX Context Menu in the session is now translated according the localization set in the session.

Usage tracking of extended applications – 

RES VDX 2014 in combination with RES Workspace Manager 2014 SR1 is now able to track extended applications (running on the client).

Master Installer – 

RES VDX is now delivered with a Master Installer which makes it easier to install. 

Extend VDX with context aware workspace management – 

VDX integrates with RES Workspace Manager to add capabilities such as context awareness, granular VDX behavior control and improved personalization for an overall better user experience.