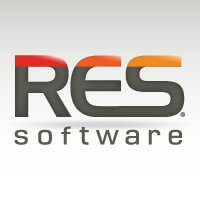 Workspace Virtualization leader RES Software today reported nearly 30 percent annual revenue growth year over year for 2012.  RES Software experienced growth across all of its geographies, including a record number of North American sales and many new one million dollar-plus sales in Q4 2012.
RES Software achieved many significant milestones in 2012, including:
A 37 percent increase in new license bookings
Increase in global license bookings by 47 percent in Q4
138 percent growth in the U.S., fueled by very large deployments
Completion of a 100K user license transaction
Klaus Besier, CEO of RES Software, said, "Dramatic changes are afoot in the IT industry as clients are demanding workspaces that more closely mirror their personal technology choices. But the consumerization of IT and hybrid end-user computing technologies also mean security risks and regulatory challenges – creating a perfect storm for enterprise IT. RES Software revolutionizes how IT professionals provide the innovative, flexible and reliable solutions business users are now demanding. We're changing how workspace technologies are delivered. And increasingly those changes are happening on much larger scales."
In 2012, RES Software implemented a strategic deal worth $3.5M with a Fortune 20 company, and signed a record number of new customers including France Telecom/Orange, University of Pittsburgh Medical Center, and conglomerate JN Data; and closed its fourth quarter with many new customers – including four that each yielded one million dollars or more in sales.  Major RES Software wins are increasingly competitive wins, with customers choosing RES Software for its more comprehensive solution and its outstanding customer support. RES Software not only virtualizes the user's workspace, but also provides an easy way to automate the delivery of services to the user's desktop, giving IT professionals much greater leverage over their costs, compared to competitive offerings.
As a result of increasing its development resources in 2012 through a new development center in Bucharest, Romania, RES Software followed an aggressive timeline of new product launches and enhancements throughout the year, including the launch of RES HyperDrive, RES Automation Manager 2012 and RES Workspace Manager 2012.
RES Software has also invested in its leadership with the appointment of Steve Morton as the company's Chief Marketing Officer. An IT industry veteran with more than 15 years of experience in IT software product strategy, Steve will focus on marketing and branding initiatives and lead the global corporate and field marketing teams. Most recently, Steve served as Vice President of Product Marketing at Symantec. With experience from prior executive roles at Altiris, Peregrine Systems and Folio Corporation, Steve completes the leadership team of a company that is poised for continued and accelerating growth in 2013.
"Aging software platforms, the high cost and complexity of PC management, the rise of disruptive devices, and the virtualization of desktops and applications are pushing companies to search for simpler ways to manage how IT services are delivered to users," said Steve Morton. "Consumers of corporate technology services and the IT administrators that deliver them are realizing the days of small scale manual delivery are over. The industry is moving towards large scale virtualization of user workspaces, automation of services, and a user-friendly, cost-cutting "IT store" style of delivery. RES Software has many new and improved products on deck for 2013 that will further change how our industry does business. I am energized and excited to be coming on board at this time to help our products and messages make a profound impact on the marketplace."
RES Software's workspace virtualization solution enables IT to centrally deliver, manage and secure the key elements of a user's computing experience, independently of workstyles and devices. By leveraging RES Software's workspace virtualization solution, organizations improve IT management and security, reduce end user frustration, and increase overall ROI.