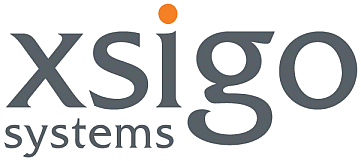 Xsigo Systems, Inc., the data center fabric deployment and technology leader, has announced the general availability of the Xsigo Data Center Fabric product line.  The new product line features improved hardware and software products currently used in 300 fabric deployments.
"This announcement is in response to a sharp uptake in demand for complete, vendor-neutral fabric solutions," Lloyd Carney, CEO of Xsigo, said. "Unlike closed systems from companies like Cisco, our open approach is the most cost-effective way to move to a fabric architecture because only Xsigo lets data center managers use existing server, virtualization and storage equipment and gives them the freedom to choose the best vendor in the future."
Recent Xsigo fabric deployments include a 55,000-seat VDI fabric at Royal Bank of Scotland by Fujitsu and a large enterprise public cloud deployment by Canadian telecommunications giant TELUS (see links below for more information).
"As enterprises move to virtualized data centers and cloud architectures, traditional network architecture and operations are increasingly becoming bottlenecks," Mark Fabbi, Vice President and Distinguished Analyst at Gartner, said.  "Fabric technologies are designed to overcome these problems and by delivering a more flexible infrastructure that can quickly adapt to changing business and application demands."
Xsigo Data Center Fabric is the only open fabric solution designed to work with equipment from all server, storage and virtualization vendors.  The primary products in the new line consists of:
Xsigo Fabric Director – Hardware and software solution to build fabrics using both 10G Ethernet or InfiniBand. Supports Fibre Channel connections to existing SANs;
Xsigo Fabric Manager – Software Defined Network (SDN) solution to manage all I/O connections in a data center from a single graphical interface. Works with x86 servers, storage and network equipment from multiple vendors using an open, standards-based architecture;
Xsigo Fabric Accelerator – Software solution to manage both Ethernet and Fibre Channel traffic within the Xsigo fabric.
New features of the Xsigo Data Center Fabric product line include:
Support for all five major hypervisors: Citrix Xen, Microsoft Hyper-V, Oracle Virtual Machine, Red Hat Enterprise Virtualization, and VMware vSphere;
Support for new generations of servers optimized for virtualized data centers: HP Gen 8, Dell 12th Generation and IBM M4 series servers;
Improved connectivity with up to 56 Gbps server-to-server communications using InifiniBand and a new 4 x 10Gb Ethernet module;
New software performance manager to optimize data center efficiency.