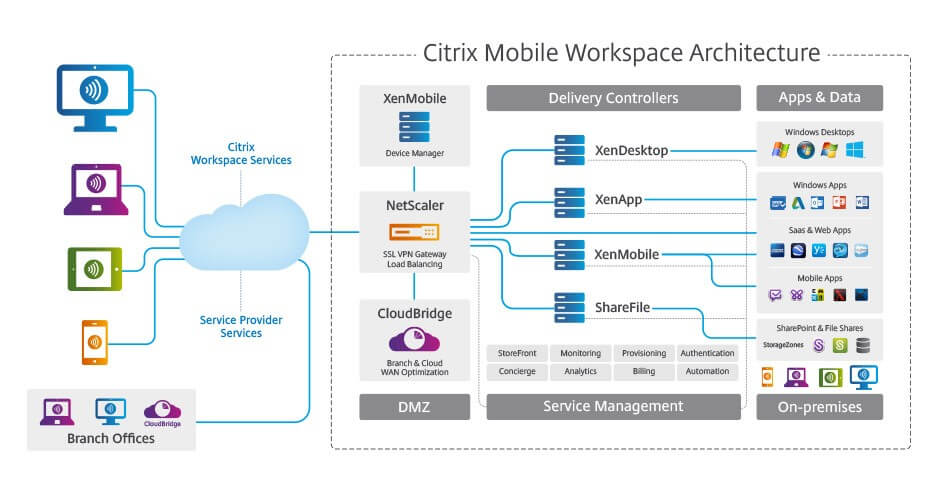 Citrix has announced new releases of XenApp and XenDesktop, extending its market and technology leadership in application and desktop virtualization and in business-ready workspaces. XenApp and XenDesktop 7.6 deliver an unmatched user experience with instant app access, and virtually eliminate the costs of ensuring storage performance. The new releases set a new industry standard for security, and include many new capabilities that can be integrated seamlessly into existing Citrix environments without disruption. Cornerstones of the Citrix Workspace Suite, the industry's most complete mobile workspace solution, XenApp and XenDesktop are built on the third-generation FlexCast Management Architecture (FMA), and are designed to be deployed in the cloud, on-premise and in hybrid environments.
According to Calvin Hsu(product marketing for desktop and apps) at Citrix, ""It is a release that has been planned for a while," insists product marketing veep for desktop and apps Calvin Hsu. "This is our second half of the year release."
Delivers An Unmatched User Experience and Instant Access to Virtual Apps
The new releases provide new renditions of features made popular in earlier versions of XenApp, such as application pre-launch, session linger and anonymous logon. These features combine to deliver instant app access, which not only improves user experience, but also can be absolutely critical in industries such as healthcare, where doctors are able to increase their quality of care as a result. Not only is access accelerated, but also even more highly available and resilient, with new features that are able to withstand the temporary loss of a database connection.
The releases also provide new enhancements to the audio, video and graphics experience.  New high-performance graphics acceleration using GPUs provide high quality DirectX/2D rendering, an important requirement for engineers and designers. In addition, support for unified communications such as Lync Server 2013 and generic redirection of the latest USB 3.0 peripherals like webcams, headsets and Lync phones for Windows devices are perfect for contact center agents, contractors and remote workers. These updates add to the existing wide array of app delivery user experience functionality that competitors lack, such as driver-less printing, profile management, client drive access, seamless local app access and more – all critical to business-ready workspaces.
To enhance the user experience of Windows apps on mobile devices, Citrix is also releasing a new update to the HDX Mobile SDK. In a fraction of the time it takes to re-architect apps for mobile operating systems, developers can customize their Windows applications to be mobile-aware and provide features that enable GPS location awareness, picture and video capture, and screen rotation re-factoring.
Obliterates Cost Barriers for Delivering High-Performance Storage
For years, one of the challenges for deploying VDI has been the storage performance bottleneck and the costs and complexity associated with the solutions. To address the high Input/Output Operations Per Second (IOPS) requirements of virtual desktops, customers had to deploy expensive Solid State Disks (SSDs) and high-end storage arrays. Even the latest virtual SAN offerings require costly SSDs to achieve adequate performance. New enhancements to Citrix provisioning services, a widely deployed single image management feature of XenApp and XenDesktop uses commodity servers and RAM to drop the IOPS load on storage by 99 percent. This unprecedented achievement elegantly solves the storage throughput performance problem without deploying SSDs and high-end storage arrays.
Only Unified Platform that is FIPS Compliant and under Common Criteria evaluation
For government agencies and security-minded organizations, XenApp and XenDesktop provide the only application and desktop virtualization solution available that meets both Federal Information Processing Standards (FIPS) compliance and Common Criteria evaluation requirements. For U.S. federal and state government agencies, FIPS compliance is a key requirement, while Common Criteria remains a global standard for security used officially in 19 countries and followed by others.
Security enhancements also have been made to enable granular policies over clipboard content filtering and directional control. This feature, inspired by customer requirements in the banking industry to help prevent credit card data hacking, gives IT control over whether end users can copy into – or out of – their virtual workspace. In addition, it provides content filtering so that potentially malicious data, perhaps embedded in Rich Text Format, cannot be pasted into the secured environment.
Simplifies App Migrations to Latest Versions of Windows
XenApp and XenDesktop 7.6 Platinum editions include the full power of Citrix AppDNA application migration technology. Some of the new enhancements include multiple builds assessment, interoperability testing, application dependency mapping, and group policy object (GPO) settings detection, which further boost the performance and accuracy of AppDNA. With these improvements, even applications with many interdependencies and integrations with other applications can be assessed, remediated and migrated into new environments. No other virtualization solution offers this capability, which is absolutely vital today when customers are dealing with the end-of-life for Windows XP and pending end-of-life for Windows Server 2003. With AppDNA, IT can reduce the time and cost of migrating applications and platforms by as much as 90 percent.
Increases Value-Add and Integration with Microsoft Solutions
All of these new capabilities in this release are significant enhancements to the underlying Microsoft platform, enabling customers to derive further value and greater scalability from the combined solutions. In addition, the new Citrix Connector 7.5 for System Center Configuration Manager—developed in close partnership with Microsoft—enables administrators to use Configuration Manager to define and manage user access to virtual applications and desktops powered by Citrix.
Citrix also released a new reference architecture for deploying XenApp and XenDesktop on Microsoft Azure, complete with sizing and costing data. Published and optimized in collaboration with Microsoft engineers, the reference architecture materializes the Citrix Workspace Services vision on Azure that was first unveiled at Citrix Synergy in May 2014.
Integrates and Enhances Existing XenApp 6.5 Deployments
Several features of the latest version seamlessly integrate with XenApp 6.5, including the new provisioning services, updates to Citrix Receiver, StoreFront and HDX, AppDNA, System Center Connector, monitoring consoles and more. By adding these new values and capabilities, customers can improve their current solutions while simultaneous planning a smooth transition to XenApp 7.6 at their own pace. To make this task even simpler, Citrix is releasing new migration tools to help move the existing workloads to the new architecture when customers are ready.
Streamlines Cloud Deployments with Verified IaaS Providers
The Citrix Ready IaaS Cloud for XenDesktop program gives customers the peace of mind that a given cloud provider's infrastructure is well-suited for the deployment of XenApp/XenDesktop. A growing list of verified providers gives customers choice when it comes to geographic location and level of service.
Availability
XenApp and XenDesktop 7.6 will be available in September 2014.
Rakesh Narasimhan Group VP & GM, Desktops and Apps Citrix, says that "XenApp and XenDesktop 7.6 demonstrates why Citrix continues to be the clear leader in all key technologies for delivering business apps and data to a mobile workforce. This new release positions customers to take advantage of the operational and cost benefits of the cloud, also supports hybrid and on-premises data center deployments, yet continues to deliver the features and performance people need to work productively on any device in any location."