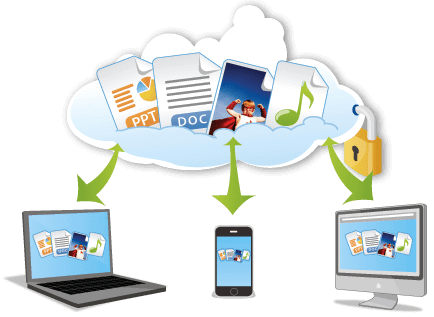 At this years Citrix Synergy, Citrix has announced that the new Citrix ShareFile features that deliver the broadest storage access for users and the most choice for IT. The new features give users the ability to access and edit files from multiple data sources on their mobile devices and businesses more control over their data encryption keys, resulting in increased productivity and security. These capabilities – unique to Citrix – are available in the company's secure file sync and sharing solution ShareFile, Citrix XenMobile and the new Citrix Workspace Suite.
According to a recent study by Enterprise Strategy Group, more than two-thirds of IT professionals using pure cloud-based online file storage are extremely interested in storing some or all data on-premises. People have also come to expect instant access to files in the moment they need them in order to be productive. ShareFile provides users with one place to access and edit files stored on-premises and in the cloud from their mobile devices, improving productivity through a secure mobile workspace.
What's New in ShareFile
Integration with Any Enterprise Content Management System

– Data within today's businesses lives in a range of places that are not easily accessible outside of corporate networks or from mobile devices. ShareFile StorageZone Connectors help businesses by establishing direct and secure mobile access to data in its original location behind the corporate firewall. Connectors for Microsoft SharePoint and network shares

are already used by thousands of companies since launching at Citrix Synergy last year. Taking it one step further, Citrix is now opening its platform by releasing a ShareFile StorageZone Connectors SDK. This SDK allows any IT or partner organization to develop connectors to any enterprise content management (ECM) system, thereby expanding the types of data users can access and edit on the go via ShareFile. Point.io and CloudFuze are two partners who have already built connectors for ECM systems, including Alfresco, Documentum and Filenet.

More Storage Options

– New ShareFile Personal Cloud Connectors allow users to access their Box, Dropbox, Google Drive and Microsoft OneDrive accounts from ShareFile. It provides enterprises with the flexibility to determine how and where users store files. For businesses looking to manage their corporate data in one place, IT can choose to enable ShareFile Personal Cloud Connectors for a defined period of time and require users to migrate all corporate data from personal file sharing services to ShareFile. If IT chooses to keep personal file sharing services available, users can continue to take advantage of the productivity benefits that ShareFile offers, including editing and annotating, for personal files such as tax forms or contracts.

Encryption Key Ownership

– With most cloud file sharing services, files are encrypted but businesses don't hold the key. Their service provider does. Yet, some businesses prefer to maintain the keys to their own encrypted data. With Citrix, businesses can manage their own ShareFile StorageZones in Microsoft Azure to benefit from the elasticity and flexibility of the cloud while maintaining ownership of their own encryption keys – an advantage typically only available on-premises.

Office Document Creation, Editing and PDF Annotation

– It's not enough to just access, collaborate and share documents on mobile devices, people need the tools to create and edit documents on the go in order to be fully productive. That is why Citrix is extending mobile document creation and editing capabilities to all ShareFile customers. Previously only available to enterprise customers, these features allow users to create, review and edit Microsoft Office documents and annotate Adobe PDF files within ShareFile on mobile devices. By enabling users to leverage a native editor, IT can restrict the use of third-party editors that create an unsecured copy of a file, putting corporate data at risk.

New ShareFile for iPhone: Optimized for Mobile

– Inspired by user feedback and designed to take full advantage of iOS 7, Citrix will release a reimagined experience for customers using ShareFile on iPhones. Optimized around what people want to do on their phones, the new app will be faster, simpler and debuts a contextual menu offering customers the right functionality, in the right context, at the right time. A real-time algorithm determines the menu options that are needed based on where users are within the app and what they have selected. The result is a simpler, less cluttered interface, enabling users to work faster and smarter.
Availability
Customer-managed StorageZones for Microsoft Windows Azure and ShareFile StorageZone Connectors SDK are available now. Document editing for all ShareFile customers and the new ShareFile for iPhone will be available for download from the Apple App Store in May 2014. ShareFile Personal Cloud Connectors will be available in June 2014. 
{loadposition content_starwind600}