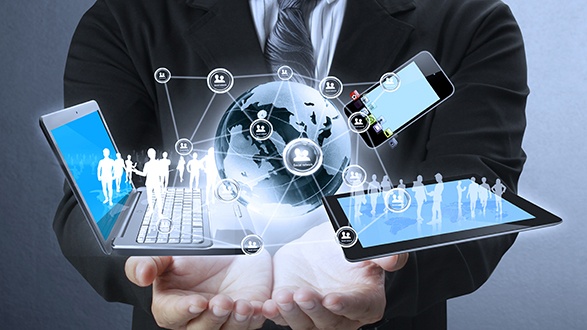 At Citrix Synergy, Citrix announced the new Citrix Workspace Suite, which unites its market-leading virtualization, mobility, networking and cloud services technologies to make it even easier for people to work anywhere. Providing instant, secure access to all apps, desktops, data and services from any device over any network, Citrix Workspace Suite enables businesses to empower people to choose when, where and how work gets done, giving them a new level of freedom, flexibility and choice.
The availability of Citrix Workspace Suite follows the company's recent announcement about the emerging mobile workspace market. In fact, analysts predict that this market will grow 15 times in the next three years1 as organizations look to embrace business mobility. Citrix is the only vendor that offers the established leadership and proven technologies in all the areas needed – from app and desktop virtualization, to mobile app and device management, to cloud networking – to enable the delivery of comprehensive and personalized mobile workspaces. With today's announcement, customers can now leverage an integrated solution for securely delivering apps, desktops, files and services to any user, on any device over any network with a high performance user experience.
With the rapid emergence of new devices and app platforms, combined with the explosion in consumerization, mobility and BYOD initiatives, organizations must find a way to manage and secure the diversity of today's IT environments. Currently, 61 percent of information workers are working outside the office2, yet 72 percent of workers do not feel equipped with the technology necessary to get their jobs done in these locations3. In addition, people are using more than three different devices a day to get their jobs done4 and looking forward, analysts predict that by 2017, half of employers will require employees to bring their own personal devices to work5. To keep pace with this fast progression in mobility and consumerization, many businesses have made multiple technology purchases to address challenges as they arise. As a result, they are now managing multiple and costly infrastructures that each require separate support and different skillsets, yet don't always meet workers' needs.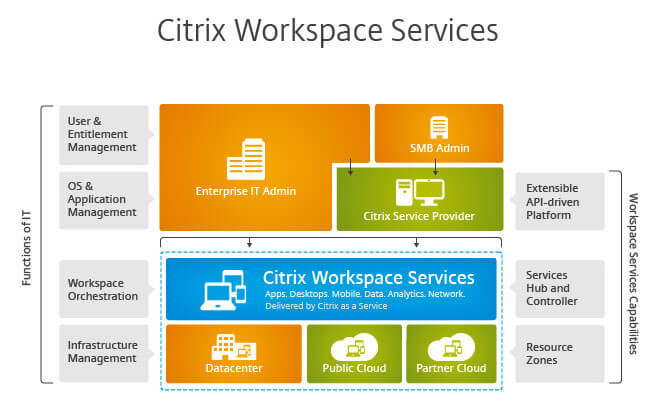 The new Citrix Workspace Suite provides a single, flexible solution that will support multiple corporate or BYO devices per user, instant access to apps, data and services, and simplify how organizations manage and secure their end user computing environment. It combines key Citrix technologies, including application and desktop virtualization, mobile application and device management, native mobile productivity apps, enterprise file sync and share, WAN optimization and an access gateway to enable comprehensive management and support of application, desktop and mobile infrastructures. As a result, businesses can improve employee productivity and fully secure enterprise content.
Key features include:
High-performance user experience.

Citrix Workspace Suite delivers an optimal experience for any app or desktop. Using a universal client available on all tablets, smartphones, PCs, Macs or thin clients, IT can always deliver high-performance content whether over low bandwidth, high latency WAN, a highly variable 3G/4G mobile network or a reliable corporate LAN. And IT can deliver an optimized, native experience on any mobile device while securing the delivery of any type of app.

Secure by design.

Citrix Workspace Suite offers enterprise-grade security to ensure data and applications are always secure and compliant. This enables workers to access and sync all of their data from any device and securely share it with people both inside and outside the organization. At the same time, IT has the flexibility to manage that data on-premises, in the cloud or use a mix of both for the best economics. Organizations can minimize the loss of intellectual property and sensitive private information through the centralization of applications and desktops, which keeps all data in the datacenter. In addition, IT can add features, such as data encryption, password authentication, secure lock and wipe, inter-app policies and micro VPNs to mobile apps to further secure data on the device.

Single, flexible solution.

The diversity in today's workforce has forced multiple desktop, mobile and app infrastructure deployments that each require their own management and support. Citrix Workspace Suite addresses this challenge with a single, flexible solution that can streamline application and desktop deployment and lifecycle management to reduce IT costs. By centrally managing and delivering on-demand standard images, IT can improve the success rate of application and desktop image updates and provide role-based management, configuration, security and support for corporate and employee-owned devices.

Self-service access to all apps.

Citrix Workspace Suite provides a unified app store that aggregates Windows, web, SaaS and mobile apps for delivery to any device. The app store allows IT to host all enterprise services in a single place where workers have self-service access to the content they need to be productive. In addition, Citrix Workspace Suite includes native mobile apps for secure email, calendar and browsing to maximize productivity and security for mobile workers.

Personalized content to every user.

Today's workforce demands the flexibility to work from anywhere on any device. With Citrix Workspace Suite, workers can access all of their applications, data and even their personalized desktops from any corporate or BYO device, including tablets, smartphones, PCs, Macs or thin clients. At the same time, IT can customize and secure the right set of applications, desktop and data to deliver to workers while optimizing the content to meet the performance, personalization and mobility requirements of each individual.
Availability
Citrix Workspace Suite is available immediately. Please visit here for more information.
Promotions
For a limited time, Citrix is offering several Citrix Workspace Suite promotions:
·         Organizations using VMware Horizon or VMware View can purchase Citrix Workspace Suite licenses at 50 percent off when they trade their Horizon or View licenses for Citrix Workspace Suite.
·         Organizations can receive 25 percent off Citrix Workspace Suite licenses when they make the strategic decision to migrate from their Blackberry devices.
·         Organizations can receive 25 percent off Citrix Workspace Suite licenses for use with new Google Chromebooks.
·         Also for a limited time, XenApp, XenDesktop, XenMobile and ShareFile Enterprise customers can take advantage of special savings of up to 70 percent for trading up to Citrix Workspace Suite. Trading up to Citrix Workspace Suite provides customers with all of the functionality they are accustomed to with their current Citrix products, combined with new, powerful capabilities to complete their mobile workspace.