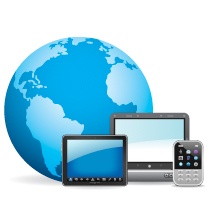 Citrix has announced a new release of the Citrix XenDesktop version 7.5 , the market-leading desktop virtualization solution. XenDesktop brings hybrid cloud provisioning to enterprise desktop virtualization deployments, allowing customers to use Amazon Web Services (AWS) or any Citrix CloudPlatform™ powered by Apache CloudStack® cloud to flex, grow or transform their virtual desktop infrastructure. By leveraging the elasticity and economics of the world's largest clouds, customers can add new capacity for seasonal or unplanned needs without incurring capital expenditures, giving them the flexibility and resources for the mobile enterprise. XenDesktop is built on the same FlexCast Management Architecture as Citrix XenApp (also announcedtoday), which provides a single console from which customers can deliver both virtual apps and desktops. XenDesktop is helping to drive the Citrix vision of the mobile workspace to securely deliver apps, desktops, files and services seamlessly to any user, on any device, over any network. Along with new release of XenDesktop, Citrix announced two new Citrix Ready programs addressing hybrid cloud and low-cost initiatives.
The new mobile world is changing where, when and how people work, and it is forcing IT to find new ways of supporting the mobile enterprise. The ability to leverage public cloud resources to support rapidly changing business needs, such as scaling for seasonal workers and M&A or optimizing their datacenter operations while carefully managing capex, is becoming increasingly attractive and necessary. Together, XenApp and XenDesktop provide the only unified architecture for delivering virtual apps via XenApp and adding a variety of virtual desktop delivery models with XenDesktop, increasing IT flexibility and saving infrastructure and costs.
XenDesktop 7.5 can provision application or desktop workloads to a private or public cloud infrastructure alongside traditional virtual infrastructure deployments. Unlike competitors that force customers to use completely different solutions for on-premise and cloud, XenDesktop 7.5 uses the same management consoles and skillsets, with no new configuration consoles or training needed. Also unlike competing solutions, XenDesktop supports an "any cloud" strategy that does not lock customers into a proprietary cloud with limited geographical distribution, but instead allows them to leverage any of the large public clouds on the market. Initially, hybrid cloud provisioning will be supported for AWS or any CloudPlatform-powered public or private cloud. Over time, new support will be added including the previously announced support for Windows Azure cloud platform. With one installer and about one-third of the steps of competing products, XenApp and XenDesktop have the easiest deployment processes in the market, and are the only solutions with built-in monitoring and automated provisioning.
New Citrix XenDesktop 7.5 simplifies virtual desktop delivery and Windows app delivery to an increasingly mobile workforce. Leverage the elasticity of hybrid clouds and the security of mobile device management.
Flex, grow, or transform your virtual app and desktop infrastructure
Enable enterprise IT to flex, grow, or transform their virtual app and desktop infrastructure without additional capital expenses by leveraging the elasticity and economics of the world's biggest and most powerful clouds. 
Provisioning to cloud infrastructure – Only XenDesktop can provision application or desktop workloads to private or public cloud infrastructure alongside a traditional virtual infrastructure deployment.
Any cloud – Support through Amazon Web Services or any Citrix Cloud Platform-based public cloud or a private cloud built with Citrix Cloud Platform. Support through Windows Azure will be available in the future.
AppDNA reduces the time to virtualize apps for mobile delivery by automating the labor required to test and remediate applications by up to 90%, saving thousands of person-hours during application migrations and on-going lifecycle management.
XenMobile MDM edition or 20% off of XenMobile Enterprise edition. Mobile Device Management is a technology that every organization should extend to their employees to ensure the full connectedness and potential of mobile devices without the risk of compromised networks or data loss.
Remote PC Access so that remote users may access their PC at any hour of the day, even if the PC is powered off or suspended saving power and adhering to green computing initiatives.

Web Interface support is extended for XenDesktop 7.5 allowing IT to maintain their existing Web Interface investment throughout the migration to the new FlexCast management architecture.

 
New Citrix Ready Infrastructure-as-a-Service (IaaS) Cloud for XenDesktop
With the announcement of XenDesktop 7.5, Citrix is also creating a new Citrix Ready program that provides Citrix validation of infrastructure-as-a-service for XenDesktop 7.5. The Citrix Ready IaaS Cloud for XenDesktop gives customers the confidence that XenDesktop will run on a particular cloud operator's infrastructure. Cloud providers that are a part of this program will be required to pass a test suite verifying the feature correctness of XenDesktop operating in their environment. The global program gives Citrix customers the ability to flex their XenDesktop deployments beyond the walls of the datacenter, tapping public cloud providers to address fluctuating demand or to leverage regional or purpose-built clouds as a means of addressing regulatory and compliance needs.
Citrix Ready Low-Cost Converged Infrastructure Verified
Innovation, as a result of collaboration between Citrix and industry-leading systems and storage vendors, is reducing the cost of desktop virtualization at a fast pace. A new class of converged infrastructure architectures are delivering upfront equipment costs of under $200 per user leveraging local storage, powerful CPUs, and large capacity low-cost memory. Solutions that are a part of the Citrix Ready Low-cost Converged Infrastructure Verified program are tested for performance and high availability whether they are deployed for a few hundred desktops or scale to a few thousand.
Citrix continues to lead the industry in driving down the cost of desktop virtualization and offering new choices for customers. The new Citrix Ready Low-Cost Converged Infrastructure Verified program joins the successful Citrix Ready HDX Verified program, which continues to enable game changing end points built with low-cost HDX SoC-based architecture. Additionally, Citrix is working with Google around the emerging Chromebook ecosystem for the enterprise with Citrix Ready validation now complete for many of the latest Intel® Haswell-based Chromebook offerings that are available.
Extending Security to Mobile Devices
For a limited time, XenApp and XenDesktop Platinum edition customers can add mobile device management (MDM) or enterprise mobile management (EMM) capabilities at a discount. The Platinum Mobility Promotion enables these customers to get Citrix XenMobile MDM edition for the price of Software Maintenance, or XenMobile Enterprise edition at a 20 percent discount off the product price. This offer expires September 30, 2014; restrictions apply.
Availability
XenDesktop 7.5 will be available in March 2014.
{loadposition content_starwind600}