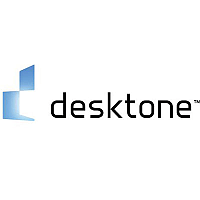 Desktone, Inc., the pioneer of Desktops as a Service (DaaS), has introduced the Desktone Powered Program, a comprehensive training, certification and support program designed to accelerate customer deployments of DaaS.
Strong interest in Desktone's cloud-hosted virtual desktop platform has driven record growth over the past year with the company signing more than 20 new partners, including Dell, Quest, Fujitsu, Netelligent, Cisco, NetApp and Navisite, to deliver DaaS via the Desktone Platform. The Desktone Powered Program provides service providers, resellers and technology partners with technical, sales and marketing tools to boost customer adoption of DaaS.
Desktone is the only company that delivers a software platform for service providers to offer virtual desktops as a service via their cloud or via public or private clouds. The Desktone Platform was built from day one for service providers to easily deploy cost-effective, full-featured virtual desktops to any device on-demand. The Desktone Powered Program gives them additional services and support to rapidly provision and deploy DaaS to end users; train technical, sales and marketing staff; access troubleshooting material and forums; and create a recurring touch point with Desktone.
The program supports three types of organizations: Desktone Powered Service Provider, Desktone Powered Reseller and Desktone Powered Technology Partner. All partners have access to:
The Desktone Partner Portal – An online solutions center with documentation, troubleshooting materials, marketing collateral and an interactive forum for feedback
Desktone University – Online training and certification programs for technical, sales and marketing professionals
Quick Start Tools – Three month rapid proof of concept and free demo desktops to try out the Desktone Platform
Technical Support – Platform installation services, monitoring, testing and help desk support
Professional Services – Expert support from a Desktone Technical Account Manager, a Channel Sales Manager and a Project Manager to assist with business optimization
Sales & Marketing Support – Extensive sales and marketing enablement based on Desktone's years of experience offering DaaS
Service providers are turning to DaaS as a new revenue stream with strong market potential. Organizations from SMBs to enterprises are looking for ways to support the consumerization of IT. DaaS makes it easy to deploy full-featured Windows desktops to any device on-demand without the cost and complexity of building and managing infrastructure required by traditional virtual desktop infrastructure (VDI) solutions. Additionally, the hosted model is simple for service providers to try and buy before scaling. Desktone's DaaS offering is $10-$15 less per month per desktop than traditional, on-premise VDI solutions and can help service providers achieve 15-20 percent increased margins.
"BYOD is changing how the channel operates, with end user organizations looking to us to support a multitude of devices in the workplace," said Aaron Stone, CEO, Netelligent. "The flexibility of DaaS has made it easy for us to securely deliver Windows desktops to any end user device. Unlike VDI providers, the Desktone Platform is hosted in the cloud and simple to deploy, without the cost and hassle of on-site hardware and software. Being a certified Desktone partner gives us the training and tools we need to accelerate customer deployments and provision desktops in minutes, helping our clients realize the benefits of DaaS even faster."
"Service providers and channel partners are quickly realizing the business value of DaaS and turning to Desktone as an affordable, easy-to-use alternative to on-site VDI,"  said Peter McKay, CEO, Desktone. "Our partners are key to driving widespread adoption of cloud-hosted virtual desktops and the Desktone Powered Program is a way for us to give the partners we work with every day the tools they need to quickly go to market with DaaS."