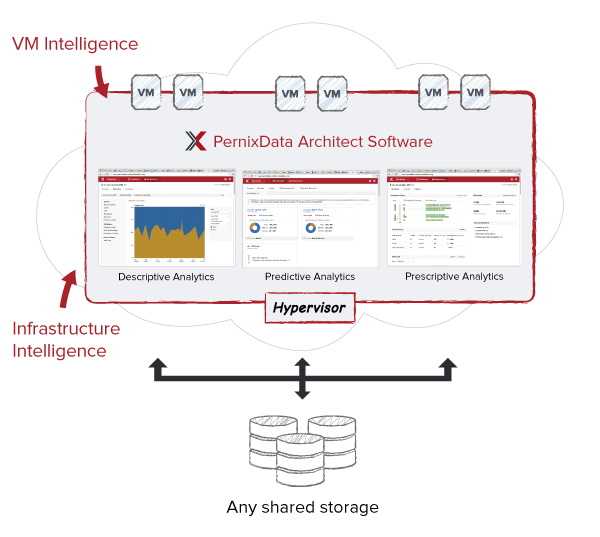 PernixData,has announced the General Availability (GA) of FVP version 3.0, the latest release of the company's award-winning storage and VM acceleration platform. With the newest version of FVP comes various performance and usability enhancements, a new proactive wellness capability, and the ability to deploy PernixData's flagship software in vSphere 6.0 environments. In addition, the company announced today the GA of FVP Freedom, a free version of FVP software that is available to anyone who requests the software (with no time limits). With FVP Freedom, it has never been easier to experience the performance benefits of server-side storage acceleration. Plus, companies can substantially lower storage costs by avoiding unnecessary investments in storage array caching solutions.
"PernixData FVP software has taken the storage world by storm with over 500 customers and 300,000 VMs optimized in just two short years of shipping," said Poojan Kumar, CEO and co-founder of PernixData.  "But we won't rest until FVP is installed on all of the millions of virtualized servers throughout the world. FVP version 3.0 with new Freedom edition helps us achieve this goal, making it easier than ever to deploy server-side storage acceleration in every virtualized data center."
FVP Version 3.0 – The next evolution in storage acceleration
PernixData FVP software uses clustered high speed server media to deliver low latency reads and writes to any virtualized applications. This ensures the fastest application performance with seamless VM operations and complete fault tolerance. At the same time, any shared storage hardware can be used for capacity, avoiding rip-and-replace headaches. For the first time ever, you can decouple storage performance from capacity to build storage environments that are bigger, faster and more cost effective than ever before. 
FVP version 3.0 sets the standard for server-side storage and VM acceleration. Specific new features include:
Support for vSphere 6.0.

 FVP enables customers to get world-class storage performance in any modern vSphere environment (5.x and 6.0).

New HTML5 based User Interface

. FVP has always been recognized for its elegant presentation of performance metrics and intuitive interface. The latest version provides an even better experience with more tools plus a modern, fast, and flexible interface based on HTML 5.

PernixPlus.

 FVP now provides a proactive wellness capability for the collection of pertinent deployment data from PernixData customers. This helps identify potential challenges before they arise, and enables PernixData's support team to rapidly resolve any issues that arise.
FVP Freedom – The Software Defined Bully
FVP Freedom takes several of the baseline elements of FVP – such as read acceleration and Distributed Fault Tolerant Memory (DFTM) – and makes them available to anyone looking for storage acceleration. There is no time limit. No restrictions on who can have the software.
With FVP Freedom, you can see the performance benefits of server-side storage acceleration simply by downloading the software and carving out a piece of memory from existing servers. Furthermore, there is no longer a need to purchase read caching software inside the SAN, saving customers tens of thousands of dollars per storage array.
From small VDI deployments to large database environments, it has never been easier to get fast storage performance from any shared storage array. 
Availability
Both FVP version 3.0 and FVP Freedom are generally available now. To download PernixData FVP software, please visit: https://www.pernixdata.com/free-downloads