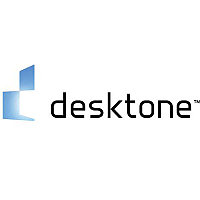 VMware has announced that today at VMworld 2013 in Barcelona, Europe, VMware, Inc., that it has acquired Desktone, Inc, an industry leader in desktop-as-a-service (DaaS) with an advanced multi-tenant desktop virtualization platform for delivering Windows desktops and applications as a cloud service.
"Desktone is a leader in desktop-as-a-service and has a complete and proven blueprint for enabling service providers to deliver DaaS," said Sanjay Poonen, executive vice president and general manager, End-User Computing, VMware. "By bringing Desktone's innovative platform in house, VMware can accelerate the delivery of DaaS through its network of over 11,000 VMware service provider partners while helping to shape and lead the future of the industry."
"The combination of VMware and Desktone's global partner network will allow customers in all regions to benefit from the economies of scale provided by DaaS," said Peter McKay, president and chief executive officer, Desktone. "With the Desktone platform already certified with the VMware vCloud® technology, VMware vSphere® and VMware Horizon View™, customers will be able to quickly modernize and move their desktop infrastructure to the cloud and open new possibilities for customers, users and service providers." 
  
VMware's acquisition of Desktone closed earlier this month, in the fourth quarter of 2013.  Financial details of the transaction were not disclosed. The transaction is expected to be immaterial to VMware's financial results.
Accelerating the Move of Desktops to The Cloud 
The explosion of mobile devices, mobile and web applications, and increased interest in the cloud is driving businesses to re-evaluate their desktop strategy. Desktop virtualization with VMware Horizon View simplifies desktop management, security, and control while delivering an optimum end-user computing experience across all devices and networks. The addition of the Desktone platform further extends the benefits of desktop virtualization by offering an additional choice to organizations looking for predictable economics, flexibility of cloud deployment or simple deployment and management due to the lack of resources or in-house VDI expertise. The Desktone platform was purpose-built for service providers to deliver windows applications and desktops as a cloud service with unique capabilities such as:
Multi-tenancy – A must for cloud delivery. Each customer gets a separate virtual environment to ensure security while cloud providers are able to manage multiple customers under one platform.
Self Service of virtual desktops – Simple provisioning from the cloud enables self-service for IT of full VDI, shared session remote desktop service (RDS) desktops and applications without the need to procure hardware or software.
Grid-based architecture for elastic scalability – Advanced architecture enables unlimited scalability across multiple geographies and data centers.
Low cost of delivery – Open source based technology eliminates Microsoft licensing fees and third-party software management, resulting in cost savings over competitive desktop virtualization offerings.