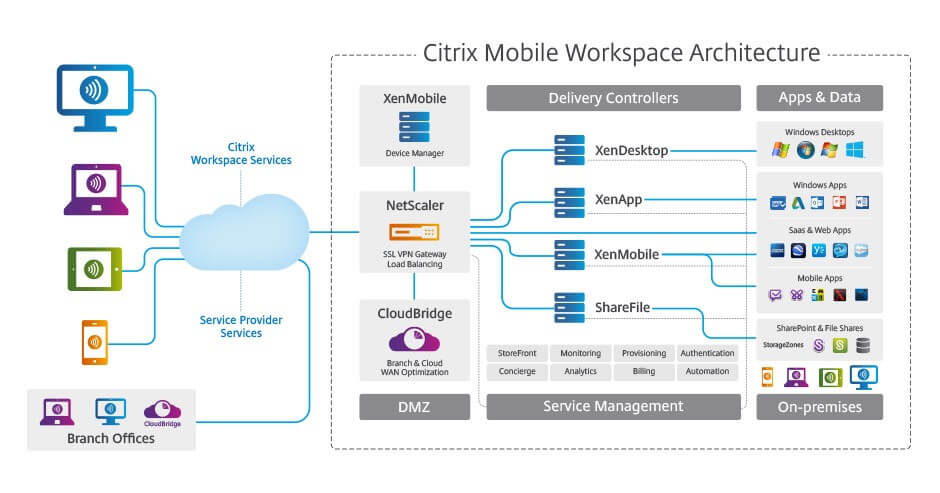 The new Citrix Receiver, StoreFront 3.0, in addition to XenApp / XenDesktop of the latest features, such as Linux support, further promoting the mobile workspace solutions XenMobile, enhancements of ShareFile.
Citrix Workspace Suite XenApp/XenDesktop  adds additional features to 7.6 and XenMobile , ShareFile announced enhancements. Citrix Workspace Suite, an application such as Windows applications, Web applications, mobile applications, and delivery data, the service to any device, and at the same time improve user productivity, to achieve a high level of security.Enhancements of this major component products, new Citrix Receiver ™, Citrix ® In addition improving the user experience of desktop and application virtualization by providing X1 ™ mouse, the enhanced security to including the security compliance of industry standards, and flexibility It will provide a mobile workspace solution that was further improved.
Now mobility has become a matter of course, but many companies do not yet fully possible to correspond to the user's requirement that you want to access all of the applications and corporate data required through any device. Many companies, strategically individual of technology in place that can be a weak point (of remote access by the hosted application implementation, provides virtual desktop of temporary staff and cooperation for the company, such as mobile device management for mobile devices of corporate ownership) to it has invested, depending on the increase of the situation changes and user requirements, we have extended these introduction. Currently, these companies are faced with the high cost each of its own management for each of a plurality of infrastructure despite multiplied by the, issue of support, it is necessary to skill set.
Citrix Workspace Suite provides application, desktop, and flexible single solution for comprehensive management and support of mobile infrastructure. And centrally manage the various standard image of applications and desktop in the middle, by distributing those images on demand, IT departments of companies, in addition to possible updates of applications and desktop images quickly and smoothly, companies or users but management of role-based for the device to be owned, setting, protection, we can carry out such support.
Additional Features of XenApp / XenDesktop7.6
Citrix provides a XenApp / XenDesktop 7.6 Feature Pack 1 in March 2015, session recording, XenServer performance enhancements of 6.5, optimization of Microsoft Lync 2013 for Windows and Linux OS, Common Criteria / ISO 15408 and FIPS- We added new features such as support for 120 of the security standards. Today June 30 from (Tuesday) to provide start the XenApp / XenDesktop 7.6 Feature Pack 2, and provides a variety of new features that provide a better user experience to our customers.
New Receiver and StoreFront 3.0: In addition to the XenApp / XenDektop, integrates Worx Home ™, which is a client of XenMobile, was as much as possible evolution as a common entrance to the user's workspace. In addition, since the customizable area by the user companies has increased, become possible to provide a more complete comprehensive enterprise application store, it is refined by the new look and feel, and intuitive and can use, comprehensive We have to improve a user experience.

HDX ™ and Framehawk ® performance enhancements in the mobile environment through integration of: a large delay and packet loss by Framehawk, it can greatly improve the screen transfer performance under unstable mobile network. HDX / ICA from conventional ® by switching flexibility and function of this added Framehawk by the situation, it is always the best performance available.

Linux virtual desktop / application: SUSE, corresponding to Red Hat, it is placed in the same mechanism as the delivery of Windows desktop / application, and we want to use it to comfortably remote connection Linux business applications and the desktop to secure, it had been received from conventional We were able to meet the request.

Microsoft Lync 2013 optimized in Mac OS: For customers that use Microsoft Lync, Citrix offers enhanced optimization of Lync. Virtual environment Lync video conferencing in, a function that allows comfortable voice calls, etc., already in addition to Windows, Linux environment that supports, and then extended for the Mac OS.
The Citrix X1 Mouse provides start to allow Windows and applications operations in iOS
To provide a mobile user experience that corresponds to the Windows applications and desktops on the Apple iPad and other iOS devices, and has started offering from the Citrix X1 Mouse is the industry's first mouse solutions in Japan June 29 (Mon). Citrix X1 Mouse is designed to optimize the XenApp and XenDesktop, enables mouse operation in the Apple device of touch interface only, you can use those devices as a powerful business productivity tools .
Enhancements XenMobile
XenMobile is an optimized and secure mobile applications in business and provide new, will continue to further enrich the mobile user experience. Newly following two mobile applications has been added this time.
WorxTasks: WorxTasks will be integrated with Microsoft Outlook tasks. Users between the Windows desktop and mobile devices, seamlessly track the TO-DO list, management, and allows you to edit.

Citrix for Salesforce: Citrix for Salesforce operates in XenMobile secure container, is a mobile application of Salesforce. An optimized interface to a mobile device, you can safely access to Salesforce.
In addition, WorxMail, WorxWeb, WorxNotes, for even existing Worx Apps mobile applications such as WorxEdit ™, a variety of enhancements to improve the user experience have been made.
Enhancements of ShareFile
ShareFile is a secure file synchronization and sharing service can flexibly respond to the security requirements of the enterprise. As one of these newly enhanced features, we have started to provide Restricted StorageZones. Restricted StorageZones is, so that it can cope with high field extremely security requirements, after limiting the available range of ShareFile in-house LAN, it has become the flexibility to limit the file sharing range of the outside.
Expand the purchase and migration campaign of Citrix Workspace Suite
Currently, up to 70% on your customers Citrix products, we are developing a migration campaign that provides the Citrix Workspace Suite at a special discount price up to 50 percent of the migration of customers from other companies until 2015 the end of September. In addition, from July 1, 2015, to customers who purchase a Citrix product of interest, including the Citrix Workspace Suite until December 24, 2015, to present the Citrix X1 Mouse and "Try! X1 mouse campaign "we will expand.
Overview of the "Tri! X1 mouse Campaign"
Campaign period: July 1, 2015 (Wednesday) – December 24, 2015 (Thursday)

Requirements: to customers during the campaign period, Citrix Workspace Suite, and the Citrix XenApp Platinum or Citrix XenDesktop Platinum purchased your more than 10 licenses

Present content: Citrix X1 Mouse 10 pieces (first 50 companies)

How to apply: Please apply by filling the necessary information from the campaign application site.
Provide start date and price of the main product
XenApp / XenDesktop 7.6 Feature Pack 2 will be the offer start from June 30, 2015 (Tuesday). In either case, the customer currently use our, if you have a valid subscription Advantage or software maintenance, you can take advantage to download at no charge.
New Worx Apps of XenMobile has been started provided by June 2015.