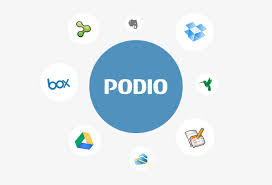 Citrix has announced that they have med Podio availalbe for free for Nonprofits organisations.The Podio free program is designed to help nonprofits organize the work they do everyday, improve work processes and ultimately be more effective. The global program includes free premium access to Citrix Podio and hundreds of Podio apps through the Podio App Market, along with onboarding support and resources. Podio sponsorship is open to all nonprofits with US 501(c)(3) or equivalent status. Citrix invites all registered nonprofits to sign up for Podio sponsorship.
"Research shows there is huge untapped potential for more social impact groups to utilize tech tools to reduce the time and cost it takes to deliver services, fundraise and engage stakeholders," said Tommy Ahlers, vice president and entrepreneur in residence, Citrix SaaS Division. "We want to remove the technology adoption and implementation hurdles these organizations face so they can spend more time making life-changing contributions to their communities, and less time managing how they get their work done."
According to Columbia Social Work Review's 2013 report, the uptake of cloud, social and mobile technologies will help the nonprofit sector to provide more effective services through improved productivity and efficiencies; yet the most common barriers to technology adoption remain lack of resources: funds, time and IT expertise. The report shows that while most NPOs use information technologies like websites, email and databases to deliver services to clients, few of them use software systems and mobile technologies that would enable their workers to improve client communications and access to information off-site. An estimated 35 percent of nonprofits use mobile devices and applications to manage work, while only 20 percent use software systems to record data for things like client and volunteer management. A recent McKinsey study found that companies see a 20-25 percent increase in productivity by using social technologies like Podio, because they simply get work done faster. 
More than 2500 nonprofits have already received sponsorship status through Podio, including The World Society for the Protection of Animals (WSPA), sustainable travel group Project Cordillera, pet-health services groupPetChance and Music Nova Scotia.
Nonprofits streamline teamwork and boost productivity
GirlsOnTheRun.org is a physical-activity-based youth development program for girls in grades 3 to 8, teaching life skills through dynamic, interactive lessons and running games. In 2013 Girls on the Run served 150,000 girls across North America through 215 councils.
"Each council is as unique as the girls they serve, with its own strengths and its own challenges," said Elizabeth Kunz, president of Girls on the Run. "Podio has been a way for our councils to collaborate, share, ideas, best practices and documents, and support one another with many miles in between them. With a way to network on a daily basis, our councils are able to more effectively serve their territories and continue to help girls grow in strength, courage and confidence."
DANSIC, a Danish student-led organization whose mission is to inspire social innovation by supporting companies targeting both social impact and economic sustainability, has been using Podio for more than two years to help coordinate its flagship annual event, the Social Innovation Conference in Copenhagen. DANSIC relies on Podio for project management, communication and coordination of all aspects of the conference, as well as keeping all 60 student-members of the organization connected and in sync. Watch DANSIC's Podio story.
Nonprofits that sign up for Podio sponsorship have access to world-class support services and onboarding assistance through the Podio Help Center, in addition to access to a community of Podio users who share best practices and learningswith each other every day through the Podio Help forum. The Podio Help Forum provides a knowledge base of expert advice, instruction on the use of Podio and other tools, as well as tips intended to help nonprofits take full advantage of Podio.
Until now, Podio sponsorship status was granted on a case-by-case basis, but in response to the growing need for cloud-based tools that make nonprofit teams more efficient and productive, the program will today be rolled out as a formal Citrix Podio offering.
{loadposition content_starwind600}