Dell AppAssure 5 – designed to allow customers to achieve higher levels of scale, speed and efficiency for backups of big data sets.
AppAssure 5 is unique in 5 technologies that have been designed from the ground up to work for virtual and physical environments. It is a comprehensive and integrated data protection software – a 3-in-1 "Backup + Replication + Recovery" for both virtual and physical servers, all from one single pane of glass. It helps you continually protect your VMs and servers and the applications running on top of them. It is based on several innovative technologies:
Live Recovery provides near-zero recovery time (RTO), and enables you to get servers (VMs or physical) restored and running in minutes.
Recovery Assure provides automated recovery verification and testing to ensure that your backups are recoverable.
Universal Recovery allows you to restore cross-platform to any VM or even dissimilar hardware.
New TrueScale architecture is an innovative and breakthrough technology that allows you to scale seamlessly to Exabytes
New True Global Deduplication provides advanced block-level, inline deduplication and compression across all your distributed backup images, resulting in up to 80% storage reduction.
AppAssure eliminates backup jobs. It provides continuous protection of your servers by taking up to 288 incremental snapshots a day and replicating them to virtual, physical, or cloud environments. The snapshots are deduped and compressed, so you save on storage as well as the bandwidth required to transport the snapshots. And when it comes time to restore a snapshot, you can put it almost anyplace – to a similar or dissimilar physical box, a VM or the Cloud. And you can mount the snapshot and allow users to start accessing the data almost instantly. It's an entirely different way of looking at backups.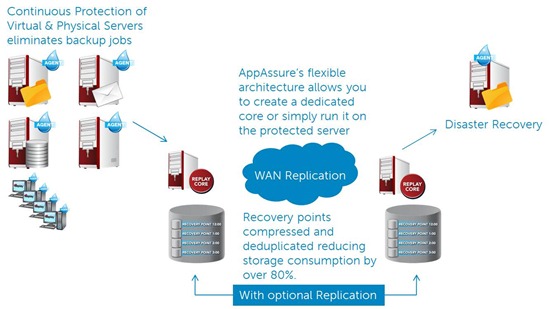 Thousands of customers globally have been using AppAssure to protect their virtual and physical environments and have preferred AppAssure over other products for its speed and reliability. With Dell AppAssure 5, the backup industry will once again change for the better with the new innovative technology that offers customers an experience that is "Beyond Backup".